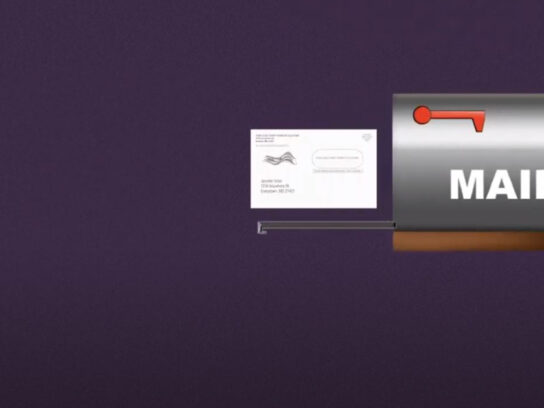 Voting by mail for the July 19 Gubernatorial Primary Election is currently underway. Registered voters who requested to vote by mail have begun receiving their ballot from the Board of Elections.
There is still time to request to vote by mail. The deadlines to do so are as follows:
Tuesday, July 12 to request a mailed or faxed vote-by-mail ballot.
Friday, July 15 to request a vote-by-mail ballot delivered electronically via the internet.
Tuesday, July 19 to request a mail-in ballot in person at the Board of Elections in Gaithersburg.
The Board of Elections provides the following 7 easy steps to vote by mail:
Open the ballot packet and read the materials carefully.
Use a black or blue ball point pen to mark your ballot. Sharpie or makers should not be used as they may bleed through to the other side of the ballot.
Check to see if identification is required by looking at the return envelope for the words "ID REQUIRED." A small percentage of voters may need to verify their driver's license number or the last four digits of their Social Security Number or may be required to submit a copy of proper identification such as a Maryland driver's license, Permit, MVA ID or official document including name and address.
Voters who require assistance voting their ballot, must return the Certification of Person Assisting Voter form with their ballot.  The person providing assistance must not try to influence voter's choices. Employers and union agents may not provide assistance.
Place the voted ballot into Postage Paid return envelope, along with any required forms, such as a Certification of Person Assisting Voter. Voters who received their ballot electronically will need to use their own envelope and pay for postage.
The Voter's Oath located on the back of the return envelope must be completed for the ballot to be counted. Seal the envelope with a wet sponge or cloth or seal with a piece of tape.
Return the completed ballot either through the mail or by dropping the ballot into a Board of Elections drop box.
There are 54 drop boxes located throughout the county that may be used to return a vote-by-mail ballot. Text the word BOX plus Zip Code (Example: BOX 20879) to 77788 to find the nearest four ballot drop boxes or check the map on the Board of Elections website at 777vote.org.
The Montgomery County Board of Elections has the following drop boxes:
Activity Center at Bohrer Park, 506 South Frederick Avenue, Gaithersburg, MD 20877
Albert Einstein High School, 11135 Newport Mill Road, Kensington, MD 20895
*Asbury Methodist Village, 201 Russell Avenue, Gaithersburg, MD 20877 (limited to residents)
Bauer Drive Community Rec Center, 14625 Bauer Drive, Rockville, MD 20853
Bethesda-Chevy Chase High School, 4301 East-West Highway, Bethesda, MD 20814
Bette Carol Thompson Scotland Neighborhood Recreation Center, 7700 Scotland Drive, Potomac, MD 20854
Clarksburg High School, 22500 Wims Road, Clarksburg, MD 20871
Col. Zadok Magruder High School, 5939 Muncaster Mill Road, Rockville, MD 20855
Damascus Community Rec Center, 25520 Oak Drive, Damascus, MD 20872
Damascus High School, 25921 Ridge Road, Damascus, MD 20872
East County Community Rec Center, 3310 Gateshead Manor Way, Silver Spring, MD 20904
Executive Office Building, 101 Monroe Street, Rockville, MD 20850
Friendship Heights Village Center, 4433 South Park Avenue, Chevy Chase, MD 20815
Gaithersburg High School, 101 Education Boulevard, Gaithersburg, MD 20877
Germantown Community Recreation Center, 18905 Kingsview Road, Germantown, MD 20874
Gwendolyn E. Coffield Community Recreation Center, 2450 Lyttonsville Road, Silver Spring, MD 20910
James Hubert Blake High School, 300 Norwood Road, Silver Spring, MD 20905
Jane E. Lawton Community Recreation Center, 4301 Willow Lane, Chevy Chase, MD 20815
John F. Kennedy High School, 1901 Randolph Road, Silver Spring, MD 20902
*Leisure World of Maryland, 3701 Rossmoor Blvd., Silver Spring, MD 20906 (limited to residents)
Longwood Community Recreation Center, 19300 Georgia Avenue, Brookeville, MD 20833
Margaret Schweinhaut Senior Ctr, 1000 Forest Glen Road, Silver Spring, MD 20901
Marilyn J. Praisner Community Recreation Center, 14906 Old Columbia Pike, Burtonsville, MD 20866
Mid-County Community Recreation Center, 2004 Queensguard Road, Silver Spring, MD 20906
Montgomery Blair High School, 51 University Boulevard East, Silver Spring, MD 20901
Montgomery County Board of Elections, 18753 North Frederick Avenue, Gaithersburg, MD 20879
Montgomery County Conference Center Marriott Bethesda North, 5967 Executive Boulevard, North Bethesda, MD 20852
Nancy H. Dacek N. Potomac Community Recreation Center, 13850 Travilah Road, Rockville, MD 20850
Northwest High School, 13501 Richter Farm Road, Germantown, MD 20874
Northwood High School, 919 University Boulevard West, Silver Spring, MD 20901
Paint Branch High School, 14121 Old Columbia Pike, Burtonsville, MD 20866
Poolesville High School, 17501 West Willard Road, Poolesville, MD 20837
Potomac Community Rec Center, 11315 Falls Road Potomac, MD 20854
Quince Orchard High School, 15800 Quince Orchard Road, Gaithersburg, MD 20878
Richard Montgomery High School, 250 Richard Montgomery Drive, Rockville, MD 20852
*Riderwood Senior Living, 3140 Gracefield Road, Silver Spring, MD 20904 (limited to residents)
Robertson Park Youth Center, 801 Rabbitt Road, Gaithersburg, MD 20878
Rockville City Hall, 111 Maryland Avenue, Rockville, MD 20850
Rockville High School, 2100 Baltimore Road, Rockville, MD 20851
Sandy Spring Volunteer Fire Dept., 17921 Brooke Road, Sandy Spring, MD 20860
Seneca Valley High School, 19401 Crystal Rock Drive, Germantown, MD 20874
Sherwood High School, 300 Olney-Sandy Spring Road, Sandy Spring, MD 20860
Silver Spring Civic Building, 1 Veterans Place, Silver Spring, MD 20910
Springbrook High School, 201 Valley Brook Drive, Silver Spring, MD 20904
Takoma Park Community Center, 7500 Maple Avenue, Takoma Park, MD 20912
Thomas S. Wootton High School, 2100 Wootton Parkway, Rockville, MD 20850
Upper County Comm. Rec Center, 8201 Emory Grove Road, Gaithersburg, MD 20877
Walt Whitman High School, 7100 Whittier Boulevard, Bethesda, MD 20817
Walter Johnson High School, 6400 Rock Spring Drive, Bethesda, MD 20814
Watkins Mill High School, 10301 Apple Ridge Road, Gaithersburg, MD 20879
Wheaton High School, 12401 Dalewood Drive, Silver Spring, MD 20906
Wheaton Library & Community Recreation Center, 11701 Georgia Avenue, Wheaton, MD 20902
White Oak Community Rec Center, 1700 April Lane, Silver Spring, MD 20904
Wilson Wims Elementary School, 12520 Blue Sky Drive, Clarksburg, MD 20871
Winston Churchill High School, 11300 Gainsborough Road, Potomac, MD 20854