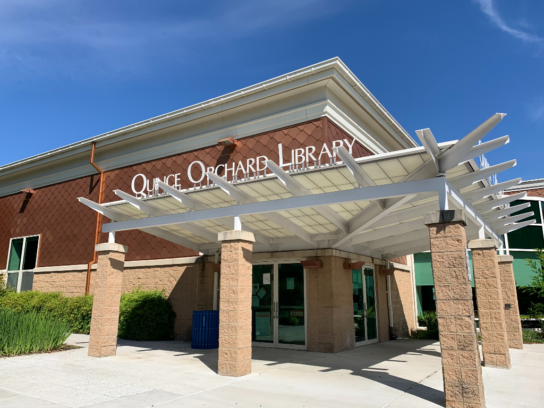 Eight additional Montgomery County public libraries opened Monday after six reopened June 1 for the first time in over a year due to COVID-19.
The following libraries reopened Monday:
Aspen Hill Library at 4407 Aspen Hill Road in Rockville
Damascus Library at 9701 Main Street
Davis Library at 6400 Democracy Blvd. in Bethesda
Little Falls Library at 5501 Massachusetts Ave. in Bethesda
Long Branch Library at 8800 Garland Ave. in Silver Spring
Potomac Library at 10101 Glenolden Drive in Potomac
Quince Orchard Library at 15831 Quince Orchard Road in Gaithersburg
Wheaton Library at 11701 Georgia Ave. in Silver Spring
These libraries have been open since June 1: Connie Morella Library in Bethesda, Gaithersburg Library, Marilyn Praisner Library in Burtonsville, Olney Library, Rockville Memorial Library and Silver Spring Library.
MyMCM spoke with Montgomery County Public Libraries (MCPL) Director Anita Vassallo and County Councilmember Will Jawando when libraries first began reopening early this month.
"One of the biggest things libraries provide — obviously access to learning — but they provide a space," Jawando told MyMCM. "A space to be in community with folks, a space to have a quiet room and study, to do a meeting. And that was not available for the last year and it's been tough on folks."
There are no appointments, capacity limits or distancing rules, according to MCPL. Face coverings are no longer required for vaccinated people, as is the guidance for most county facilities now.
Remaining libraries will open July 6. They are: Chevy Chase Library at 8005 Connecticut Ave., Kensington Park Library at 4201 Knowles Ave., Maggie Nightingale Library at 19633 Fisher Ave. in Poolesville, Noyes Library for Young Children at 10237 Carroll Place in Kensington, Twinbrook Library at 202 Meadow Hall Drive in Rockville and White Oak Library at 11701 New Hampshire Ave. in Silver Spring.
The Germantown Library will remain closed for a refresh project, according to MCPL.
Aspen Hill, Damascus, Davis, Little Falls, Long Branch, Potomac, Quince Orchard, & Wheaton branches reopened for browsing, study, computer services & more today at 10am! Welcome back! https://t.co/s4HkuIxX7s pic.twitter.com/mPi3IxUJ7E

— mcpl_Libraries (@MCPL_Libraries) June 14, 2021