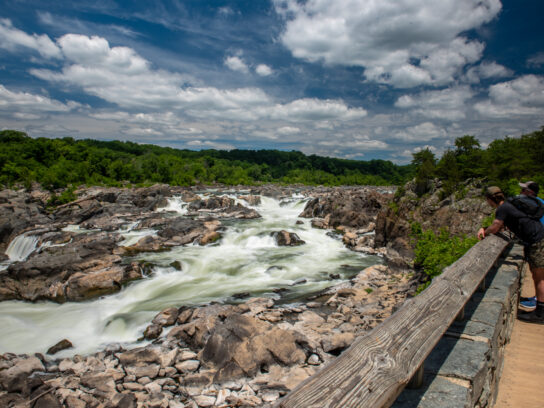 As summer arrives, the outdoors become the premier place to be on the weekends.
Montgomery County is home to over 400 parks and more than 250 miles of trails, according to the county park service. But with so many green spaces, it can be hard to choose just one.
Among the 37,000 acres of parkland in the county, myMCM will show off five different areas over the first weeks of summer curated by photographer Joe Ryan that show some of the prettiest areas in the county.
The second in this series is Great Falls in Potomac, Maryland.
Great Falls lies on the edge of Montgomery County, along the 180-mile long Chesapeake and Ohio Canal National Park which travels through Maryland, Virginia, and West Virginia.
The Great Falls area around the 14 mile mark holds not only beautiful sights but rigorous hiking as well. The falls themselves are an easy walk to see, and include bridges crossing over the thunderous rush of the Potomac River below.
However, for visitors who aren't satisfied with the simple jaunt to the falls, the area offers some of the most rigorous and popular hiking in the D.C. region, the most famous of which is Billy Goat Trail.
Though the flat towpath that meanders along the canal can be deceiving, Billy Goat Trail itself is not for the faint of heart. Full of technical rock scrambles and its signature 50-foot rock wall, inexperienced hikers may struggle to complete the trail.
The National Park Service advises hikers not to hike the trail between 10 a.m. and 4 p.m. to avoid the heat, and carry extra water when they head out.
But for those that have the athleticism and determination to complete the trail, they are rewarded with sweeping views of the Potomac rushing down toward the Chesapeake Bay.