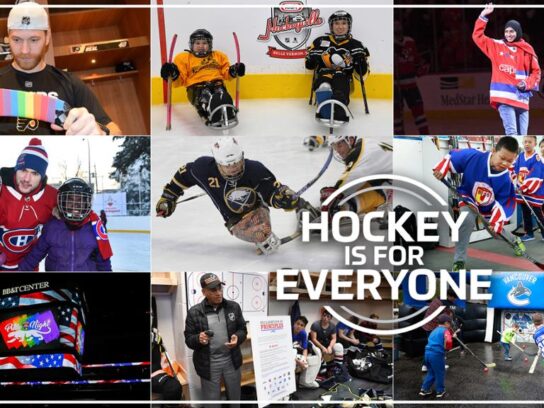 The Rockville Ice Arena turned into a mobile museum for a few short hours last week. That's when the National Hockey League's Black History Tour skated into town. Filled with memorabilia, the 525-foot tractor-trailer attracts fans of the ice sport everywhere.
The museum, hosted by the Washington Capitals, will visit Rockville Ice Arena in Rockville, Md., from 3-9 p.m. on Friday and SkateQuest in Reston, Va., on Saturday from 12-6 p.m. Admission is free for all ages and masks are required. For social distancing purposes, there will be a limited number of individuals permitted to tour the museum at a time.
The museum presents 200 years of black achievement in hockey.
Exhibits feature the founders, trail blazers, history makers, and Stanley Cup champions. The mobile museum also looks ahead to the next generation of young stars, NHL Officials, broadcasters, and women in the game. The Black Hockey History Tour launched in 2019 and will visit 28 cities across North America in 2022. This year's museum has been refreshed and redesigned to offer fans a new experience as they learn about major moments, milestones and playmakers in hockey.
For a sneak peek or in case you can't go, here's an inside look.
While it celebrates African Americans players, the NHL hopes the rolling exhibits will attract and encourage more diversity in the sport – both in the professional arena and in recreational leagues.