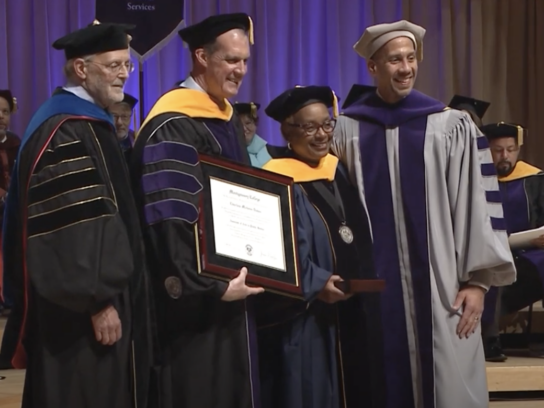 More than 500 community members gathered Wednesday to inaugurate Dr. Jermaine Williams as the 11th president of Montgomery College.
The inauguration took place at the Strathmore Music Center in North Bethesda. Students, elected officials and Montgomery College staff and faculty attended the ceremony and delivered welcoming remarks to Williams.
Williams became Montgomery College president in February of this year. He replaces outgoing president Dr. DeRionne Pollard, who left in August 2021 after 11 years at the college.
Williams brings 19 years of experience in higher education to the role, including 17 years working at diverse, multi-campus institutions. His work in higher education has focused on improving retention, graduation and post-completion success for students. Williams has also spent extensive time mitigating societal and racial inequities in higher education during his career.
His inaugural address focused on ways to provide access to education for all county residents and work alongside community members to make the graduates more successful.
"Together we can change society in the ways that matter most: reducing poverty, increasing economic and social mobility and producing students who are ambitious and deeply engaged in society," Williams said. "We need mentors and local business leaders to meet us there—to amplify the impact we already have."
"The essential purpose of our institution—empowering students to change their lives—must include preparation for the job market and for professional realms," @DrWilliams_MC remarks, at his official #MontgomeryCollege Inauguration. #MCInauguration2022

— Montgomery College (@montgomerycoll) October 19, 2022
U.S. Sen. Chris Van Hollen praised Williams during the ceremony for building a community with students and his career-long commitment to expanding access to education.
"Dr. Williams has already hit the ground running," Van Hollen said. "He has dedicated his life to supporting students of all ages, investing in their success and nurturing their dreams."
The ceremony celebrated the college's bright future as one of the best community colleges in the nation. Local elected officials, including County Council President Gabe Albornoz and County Executive Marc Elrich, also attended the ceremony.
Elrich praised Williams' commitment to equity and emphasized that Williams' leadership would make "Montgomery College a national model for education excellence, opportunity and student success."
U.S. Rep. Jamie Raskin added that Williams is a proven leader, educator and teacher who will empower students to find success.
"We greet you at the dawn of the most promising career in Montgomery County, the best-educated county in the US, a place where truth and science still live. It's a county which runs on brains and hearts, and boundless dreams of the future," Raskin said. "We welcome you to one of the finest community colleges in all the world."
So excited to join Dr. Jermaine Williams, faculty, students, staff, board members, and elected officials for Dr. Williams' beautiful inauguration as President of Montgomery College. A nonviolent and peaceful transfer of power!

Our College, Our County, Our Community. pic.twitter.com/U2JgJvSCzw

— Rep. Jamie Raskin (@RepRaskin) October 19, 2022