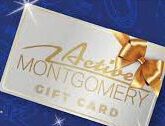 ActiveMONTGOMERY gift cards can be purchased during the holiday season. The gift card counts as payment for products and services provided by Montgomery Parks, Montgomery County Recreation, and community use of public facilities according to ActiveMONTGOMERY's website.
Community members can spend funds at any of the facilities. There is no physical gift card to carry around or lose. The card will expire five years after purchase according to their website.
ActiveMONTGOMERY hosts programs for children, teens, adults, seniors, and individuals with disabilities. To buy a gift card click here.