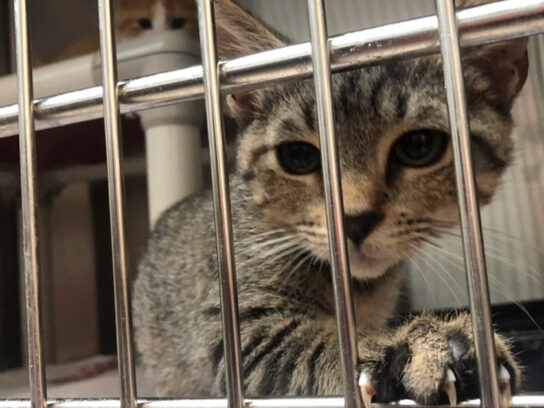 Update Thursday, Dec. 22: Adoption fees are now waived through the end of the year.
Original: The Montgomery County Animal Services and Adoption Center (MCASAC) is waiving adoption fees through Saturday, Dec. 24.
The annual event, known as Home for the Holidays, is sponsored by Friends of Montgomery County Animals. The shelter is currently full and organizers hope the event will help place animals in good homes. All types of animals are available for adoption including guinea pigs, rabbits, reptiles, cats and dogs.
The event will take place from Sunday, Dec. 11 through Saturday, Dec. 24 at the MCASAC, 7315 Muncaster Mill Road in Derwood. The center is open six days a week and is closed on Wednesdays.
Interested residents can start the adoption process online by completing the adoption questionnaire and emailing the required documents. The questionnaire, required documents and more information about the adoption process can be found at the MCASAC website.
Adoptions are done on first-come, first-served availability—by appointment. Walk-in appointments are subject to counselor availability. Adoptions are same-day and animals are not held for adopters so they should be prepared to take an animal home at the time of their appointment.
Adopters must be at least 18 years of age.
Visitors interested in adopting a pet, should bring:
A driver's license or other government issued photo ID.
A copy of your lease with the pet addendum.
Bring rabies vaccination certificates for all dogs, cats, or ferrets in your home (if applicable)
Necessary pet gear (carrier or leash/harness).
All available animals can be seen on MCASAC's website: View Available Pets.
For more information about the Home for the Holidays event, click here.