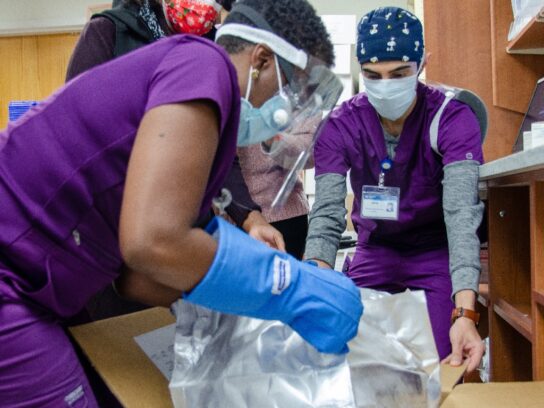 Adventist HealthCare, which has hospitals in Shady Grove and White Oak, vaccinated its first frontline healthcare workers with the Pfizer COVID-19 vaccine Thursday after receiving the initial shipments at its hospitals earlier in the day. A total of 1,950 doses were delivered to the system.
"The arrival of the COVID-19 vaccine is something that Adventist HealthCare, along with the rest of the world, has been waiting for since the onset of the pandemic," said Terry Forde, CEO.
"We're so grateful for the opportunity to provide the vaccine to our healthcare workers who have been working tirelessly since the start of the pandemic," Forde said. "It's the next step in making sure they are safe and protected."
Holy Cross Health also received boxes of the vaccine and will begin to vaccinate its front line workers on Friday. The shipment included the 195 vials that initially were said to produce 975 doses. A sixth dose was approved to be given from each vial, "so it is our anticipation that we now have a first dose of the Pfizer vaccine for 1,170 individuals!" Kristin H. Feliciano, chief strategy officer at Holy Cross Health wrote in an email to MyMCM.
Holy Cross Health, which has hospitals in Germantown and Silver Spring, expects to vaccinate all its 6,000 colleagues and medical staff as more doses are received, she said.
Below, Holy Cross employees in the pharmacy at its Silver Spring hospital excitedly unpack the vaccine.