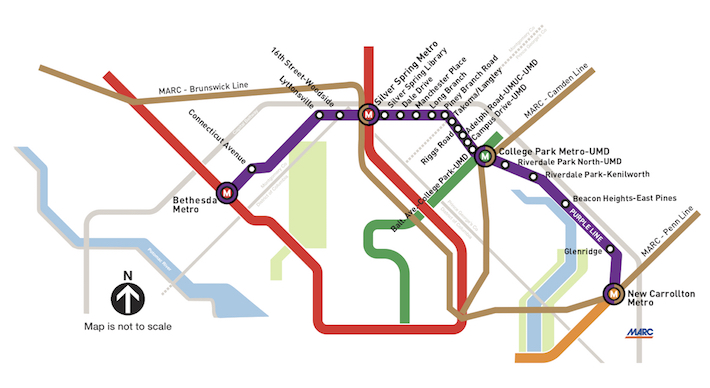 Affordable Housing Expected Near New Purple Line Corridor
Plans to preserve affordable housing near the anticipated Purple Line route in Montgomery and Prince Georges Counties have been announced.
A regional Housing Action Plan has been released by the Purple Line Corridor Coalition. The plan was developed by the PLCC's Housing Action Goal Team, which is led by co-chairs Enterprise Community Partners, MHP and the Housing Initiative Partnership (HIP).
The plan contains about 17 thousand affordable homes for families who earn less than $70,000 per year. There's also an initiative to make sure existing, as well as future individuals and families of all income levels benefit from the 16-mile Purple Line light rail when it is completed in 2023.
According to a press release from the PLCC, nearly half of all households along the corridor earn less than $70,000 per year. Officials say without planned investment, homes along the Purple Line corridor will not be affordable for the individuals and families who live there.
"The Purple Line Corridor Coalition organized an extraordinary team of community and public representatives to document the needs of the community and to identify tangible objectives.  Montgomery County made the commitment with our investment in the Purple Line light rail that it would prioritize serving the interests of the current residents and businesses in the Corridor, and we fully support the recommendations, the objectives and the accountability outlined in the Housing Action Plan to help meet that commitment," said Montgomery County Executive Marc Elrich. "The economic vitality we expect from our investment in this extraordinary transit system will only be fully realized by ensuring that the County retains the contributions of the current residents and businesses along this Corridor."
Key areas in the plans recommendations include policy and programs, coordination between county governments and community partners; and collaboration between PLCC members and local community organizations.
Key policy recommendations include:
Seeking additional state funding and public/private investment
Exploring innovative zoning programs and strategic development of surplus land
Establishing tax and loan programs and incentives geared toward affordable housing development, renovation and preservation
Developing tenant protections and pathways to ownership
Increasing funding for local housing trust funds
"The release of this plan marks a critical milestone in our efforts to allow residents of all income levels to benefit from opportunities the Purple Line will provide across the corridor," said MHP President Robert Goldman. "The time to act is now. We already are seeing signs that rents in the corridor are rising faster than elsewhere in Montgomery and Prince George's Counties."