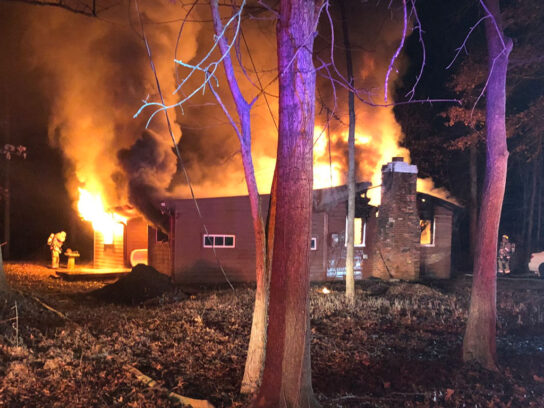 Two people were displaced on Sunday after a fire at a home in Poolesville. The home is located on the 16000 block of Bud Road between Fisher Road and Hughes Road.
According to Pete Piringer, spokesperson for Montgomery County Fire and Rescue Services, the fire started around 6:45 p.m. and the occupants were not home.
Firefighters were able to contain the fire and Piringer said the fire was caused by structure instability. He also noted that the exterior fire patterns were consistent with a possible issue related to a wood stove.
Overall, the fire caused $350,000 worth of damage and two people were displaced from their home. Firefighters will return to the neighborhood on Monday for their "After the Fire" presentation.
Update – 16000blk Budd Rd, Poolesville, House Fire, @mcfrs FFs arrived w/ heavy fire, wires down, occupant status unknown, non-hydrant area (tanker water relay/water shuttle, partial structure collapse, bulk of fire knocked, Budd road Closed btwn Fisher Rd & Hughes Rd pic.twitter.com/Ia5xRqvbhv

— Pete Piringer (@mcfrsPIO) December 23, 2019
Update – 16000blk Budd Rd, Poolesville, ROAD CLOSED Between Fisher Ave & Hughes Rd, 1-sty single family house, heavy fire upon arrival, occupant status unknown, non-hydrant area, fire knocked down & contained pic.twitter.com/FZqUUcD4vU

— Pete Piringer (@mcfrsPIO) December 23, 2019
Update (~645p 12/22) 16020 Budd Rd, Poolesville; SFD; occupants not home at time & located elsewhere; Cause & Origin, under investigation, due to structure instability, however (from exterior) fire patterns consistent w/ possible issue a/ wood stove; Damage, $350K; 2 displaced pic.twitter.com/gcZW6vBFbY

— Pete Piringer (@mcfrsPIO) December 23, 2019