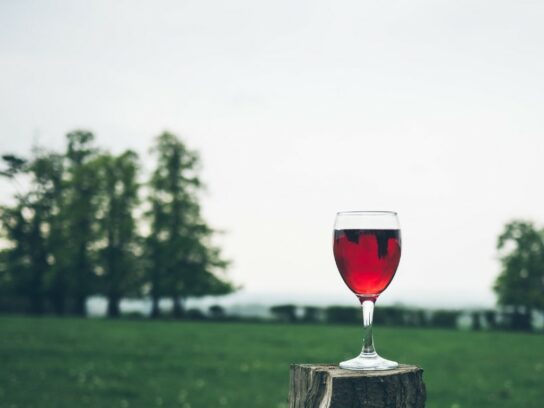 The Montgomery County Planning Board voted 4-1 Thursday to allow alcohol in designated parts of nine parks. 
The change goes into effect Thursday, Sept. 24 and ends May 31, 2021. Residents can drink from 11 a.m. to dusk in some areas at the following parks: Jesup Blair Local Park,  Acorn Urban Park, Germantown Town Center Urban Park, Norwood Local Park, Olney Manor Recreational Park, Takoma Urban Park, Wall Local Park, Wheaton Local Park and Wheaton Regional Park. These locations were chosen because they are already part of "Picnic in the Park," a joint initiative between Montgomery Parks, Visit Montgomery and MoCo Eats that began Aug. 7. The effort is meant to throw a lifeline to local restaurants suffering due to COVID-19. Residents can go to these parks, find a QR code sign, scan it and see all available restaurants that will deliver right to the park. Each park has a delivery zone and physically distanced picnic areas. 
Montgomery County Parks Director Mike Riley said he hopes allowing alcohol consumption in some areas will encourage more people to participate in "Picnic in the Park." He said this is a pilot program and things will be adjusted as needed. He reminded those attending the virtual board meeting that the county has allowed alcohol in parks previously, like during "Yappy Hour" pop-up dog park events. 
Parks Activation Manager Kirsten Hein said once this begins, there will be increased police and parks staff at the nine parks. 
NEW: The Montgomery County Planning Board just voted 4-1 to allow alcohol in nine parks.

It goes into effect a week from today (9/24) and ends next May. You can drink from 11 a.m. to "dusk."

Parks staff said there will be increased police presence once this starts. @mymcmedia

— Maryam Shahzad (@maryam_mcm) September 17, 2020
The directive did not go uncontested by residents offering public comments or board members. It was actually moved out of the consent calendar to allow for testimony. 
Arlene Rosenbusch, who said she frequently visits county parks, is concerned about drunk driving and for a very personal reason. Her sister and brother-in-law were killed by a drunk driver while biking five years ago. She said alcohol and parks are not a good mix for families. 
"Please do not add to that drunk driving problem by allowing alcohol in the parks," she said. Rosenbusch said helping restaurants is good, but the county's first duty is to serve residents, not businesses. 
She was also concerned about increasing police presence at parks. She said it could cause problems given recent increased attention to police brutality.
"Do you think in this time where police are given a hard time in the media right now that people are going to want to see more police? That may cause problems in itself, also."
Elyse Grossman, a past chair of the county's Alcohol and Other Drug Abuse Advisory Council (AODAAC), is also opposed to the new allowance. She said parks are more valuable than ever to families and children who don't have many options for fun during COVID-19.  
"Parks have always been family-friendly environments. And now, especially with all the restrictions of COVID-19, families need places to bring their children. It'll be a major deterrent to these families when these parks now include alcohol and all the problems that follow alcohol, such as drunk individuals, increased trash, increased fighting and violence and more," Grossman said.
She said it's only a matter of time before things go south. She wondered who will make sure people aren't overserved, considering that is usually the job of servers and bartenders who are able to supervise customers. 
"Normally this is the legal responsibility of servers and bartenders, but these people will not be present. If there is overservice from a restaurant and problems arise such as someone getting into a crash while intoxicated, who will be responsible?" Grossman asked.
Other testifiers echoed these concerns and offered worries about disorderly conduct in general. 
Riley said he doesn't think the "drinking fest" some people are imagining is going to happen. 
"There's a wide variety of opinions here about this idea that people enjoy a beer or a glass of wine with their lunch or their dinner turning into this drinking fest in these locations, and I'm not inclined to believe that that's going to be realized," he said. 
"I do believe that we will have instances where some people will violate the rules and we'll have to react to that and adjust as needed."
Only one person testified in favor of the alcohol directive. Brett Robison owns the Silver Branch Brewing Company in Silver Spring. 
"Being able to come into work to fulfill delivery orders or give restaurants opportunities to sell more food, and by extension beer or wine, I think would be a vital lifeline for the small business community in Montgomery County," Robison said. He thanked the parks and planning departments for thinking outside the box. 
"I just want to say thanks [to] everybody who is getting creative with their thoughts around ways to generate more business for a struggling industry at this time."
Also— you can't drink anywhere at these nine parks, only in designated spaces. This is an example showing a painted line along a designated area. @mymcmedia pic.twitter.com/WqZSkD7S4p

— Maryam Shahzad (@maryam_mcm) September 17, 2020
Planning Board Member Tina Patterson was the only member who voted against the directive. She was specifically concerned about the Germantown Town Center Urban Park, which is in a zip code with a higher number of COVID-19 cases in our county. The park is in 20874, which as of Thursday has had 1,009 cases total. The zip code with the most total cases in Montgomery County is 20906 in the Silver Spring area with 2,378 followed by 20904 with 1,682, also in Silver Spring. She's worried about encouraging gathering.
"I don't want to have on my hands that I opened the opportunity for people in the upcounty to get sick when we know that the reports in this specific area, in this radius, is on the increase," Patterson said.
Board Member Gerald Cichy wondered if people would even know what the "dusk" cut-off for drinking means. Riley had said it would be around 7 p.m. currently, but said he agrees it could be confusing and will see if the parks department can make it more clear.
Cichy also asked if there is a limit on how much alcohol can be delivered, and if there will be any control over people bringing alcohol from home. 
After hearing many questions and concerns, Board Chair Casey Anderson told members to take a step back and said the county can't micromanage everything. He does not want park police to over-police, especially during current law enforcement-civilian tensions. 
"We have to exercise oversight without trying to micromanage them," Anderson said.