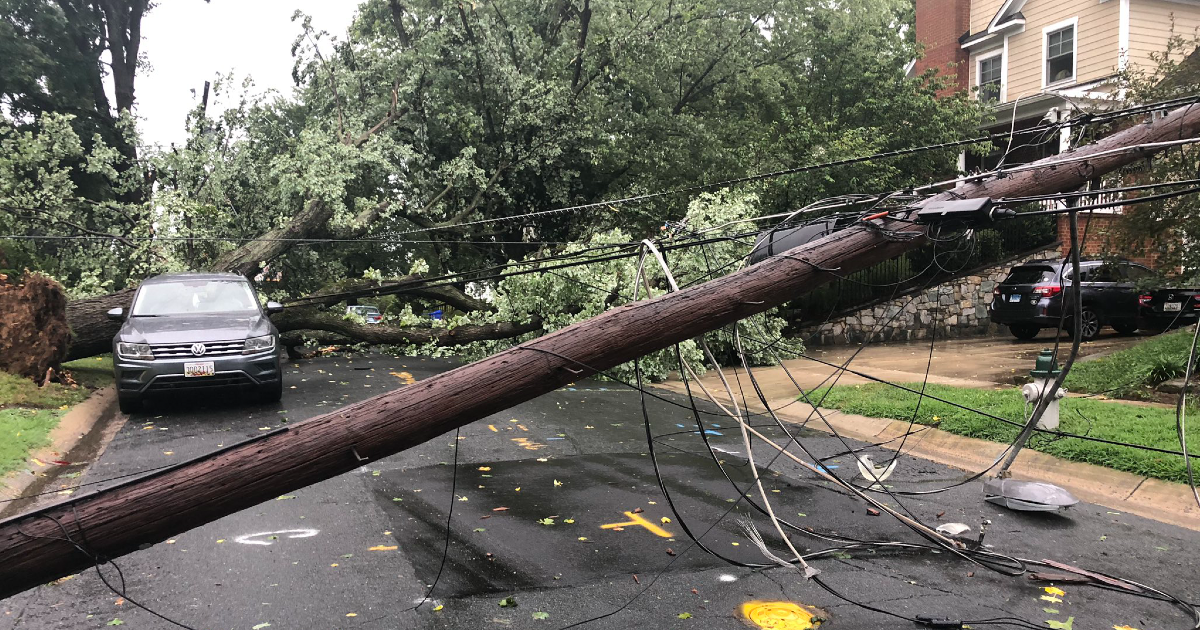 Aftermath of Wednesday Evening Storm: Downed Trees, Power Outages
A severe storm swept across Montgomery County on Wednesday evening, causing a significant amount of lightning—leaving lots of downed trees and hundreds of homes without power.
There were several downed wires and trees, especially in the Rockville and Kensington area, as well as the Bethesda and Colesville area. There were also numerous reports of lightning strikes throughout the county, especially in the Darnestown area.
A house on the 14000 block of Spring Meadows Drive near Seneca Road in Darnestown was struck by lightning. Montgomery County Fire and Rescue Service officials say there was no fire, and no injuries reported.
MCFRS officials say they handled about 100 emergency calls from 2:30 to 5:30 p.m. on Wednesday, that were mostly weather-related. In a typical 24 hour period, MCFRS say they respond to an average of 300 calls for service.
The aftermath of the storm left several homes without power, including a few dozen on Oldfield Road in Kensington. As of Thursday morning, Pepco officials say for hundreds of other county residents', power has since been restored. Click here to get an update on the outage summary in your area. 
Update – Spring Meadows Drive, house struck by lightning, no fire evident, numerous lightning strikes in the area https://t.co/qYO2qamVC5 pic.twitter.com/ek259FD8ky

— Pete Piringer (@mcfrsPIO) July 22, 2020
Update – @MontgomeryCoMD (Wednesday 7/22) Storm aftermath still several hundred homes without power, including a few dozen on Oldfield Rd in Kensington (photo from Wednesday afternoon), otherwise for hundreds of others countywide, power has been restored @PepcoConnect https://t.co/WtvVYfLDDt pic.twitter.com/K82lY06OnW

— Pete Piringer (@mcfrsPIO) July 23, 2020
I think my tree was struck by lightening today in Darnestown, MD.

What do you think?? @mcfrsPIO @capitalweather @JimCantore @NWS_BaltWash pic.twitter.com/u3KxnRjnsE

— Carolyn Raskauskas (@CarolynRask) July 22, 2020
Large branch down in Bradley and Kentsdale in Potomac, MD ⁦@mcfrsPIO⁩ ⁦@mymcmedia⁩ #mdwx #wx pic.twitter.com/weo2nFNtGu

— Carolyn Raskauskas (@CarolynRask) July 23, 2020
Wednesday 7/22 @mcfrs Fire/Rescue/EMS Units handled >100 calls for Service in a 3hr period (btwn 230p & 530p), mostly, storm related incidents. Lately in a typical 24 hour period @mcfrs responds to an average of ~300 calls for service pic.twitter.com/Yad7yxEEN0

— Pete Piringer (@mcfrsPIO) July 23, 2020
See related posts below:
Stormy Weather Causes Chaos: Firefighters Respond to Lightning, Fires, Power Outages