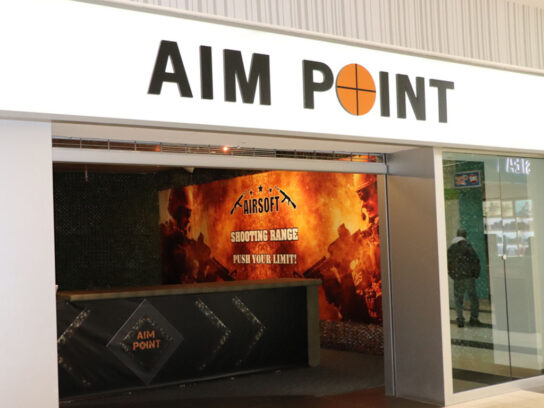 Aim Point, an airsoft shooting range that opened in Westfield Montgomery Mall in Bethesda less than a month ago, will close in January.
Aim Point is located outside of the food court area across from Popeyes.
According to an Aim Point employee, the decision to close the organization was made at the corporate level of Westfield Montgomery Mall. The employee said several customers were concerned about having a shooting range in the mall.
But unlike a normal shooting range, Aim Point is in the business of imitation firearms, thought its airsoft rifles look realistic. Per U.S. Code Chapter 76 on "Imitation Firearms," the barrel of the airsoft rifles are marked with an orange plug, to symbolize that the rifle isn't an authentic firearm.
Airsoft rifles use "BBs" instead of bullets, which are the size of the pebble and are made of plastic. Aim Point allows people 16 years or older to participate in the arcade-style shooting range wearing goggles and aiming the rifles at targets. Children younger than 16 can also participate as long under adult supervision.
WUSA9 reported that people have taken to the social media app Nextdoor to express concerns about the airsoft shooting range.
A December 4 review on Westfield Montgomery's Facebook page criticized the mall for opening Aim Point.
"The fact that Westfield allowed AIM Point to open in the face of mall shootings is irresponsible and poor judgment. My friends and I won't be patronizing the mall anymore," the reviewer said.
Westfield Montgomery Mall did not respond to MyMCMedia's request for comments on the matter. It's unclear what will replace Aim Point in Montgomery Mall.
There's currently one other airsoft shooting arena in Montgomery County called Tactical Airsoft Arena in Rockville.