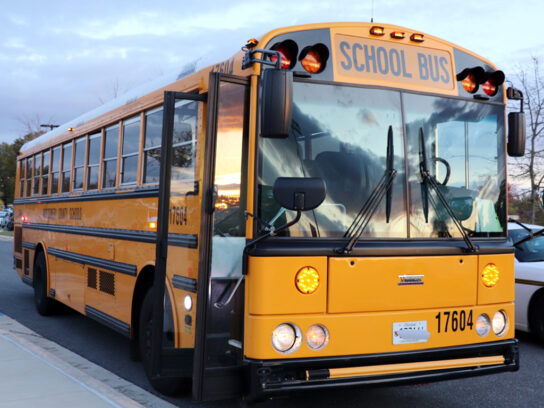 All Maryland public schools are closed for an additional four weeks until April 24.
State Superintendent Karen Salmon announced the decision at a press conference Wednesday. On March 12, Gov. Larry Hogan announced that schools would be closed through March 27 to slow the spread of COVID-19.
"I know how incredible difficult this last couple of weeks has been for you," Hogan said at Wednesday's press conference, addressing families and students. "I just want all of you to know that there's nothing more important to us than your health and wellbeing and your education."
Salmon said the state may look at extending the school year, but is first focusing on a continuity of learning plan for all districts. She said the Maryland State Department of Education is coming up with standards of learning that will apply to all school districts in the state to make sure everyone gets the basics, and then individual districts can add on to that. Salmon emphasized that school officials will make sure students with disabilities are accommodated. There will be more information about a statewide plan with equity standards in the coming days.
Gov. Larry Hogan and State Superintendent of Schools Karen Salmon announced today that they are extending the closure of all Maryland public schools until April 24. All MCPS school buildings will be closed during this time. Visit https://t.co/3UJVLWkg2H for more information.

— MCPS (@MCPS) March 25, 2020
Salmon said the state plans to resume continuity of learning next week and she will work closely with superintendents, administrators and teachers to activate education plans. She said she's working with all school systems to address issues affecting their ability to provide education to students. 
MCPS Superintendent Jack Smith said in a letter to families on Sunday that online learning for students begins on March 30. Smith appeared in an MCPS-TV video Wednesday, following Salmon and Hogan's announcement, calling the extended closure "the right thing to do." Smith said starting Thursday, families in need will be able to pick up Chromebooks.
Childcare and daycare facilities can remain open, Salmon said. 
Making sure there are childcare options for children of essential personnel like hospital and food distribution workers is an urgent focus, she said. The state has identified space for more than 1,200 children of essential personnel who cannot stay home at YMCAs, public libraries, parks and recreation facilities and other places. Salmon wants to increase capacity to 2,500 children in the coming days. Parents can register through a free referral hotline at 1-877-261-0060. 
Today, @MdPublicSchools Superintendent Dr. Karen Salmon announced that the closure of all public schools in Maryland will be extended for an additional four weeks through April 24, 2020. pic.twitter.com/LV3XfTYuyg

— Governor Larry Hogan (@GovLarryHogan) March 25, 2020
There are over 500 food distribution sites in Maryland where students can receive free meals. MCPS has been providing free grab-and-go meals to students at more than 40 sites.
As of Wednesday morning, there are 423 cases of COVID-19 in Maryland, with 127 in Montgomery County.
Virginia Gov. Ralph Northam announced Monday that all K-12 schools in Virginia will be closed through the end of the academic year.
When asked by reporters about the possibility of the school continuing to stay closed after April 24, Hogan called the reopening date "somewhat aspirational." Students will not be sent back to school if conditions are still deemed unsafe, Hogan said. The reopening date is intended to give school officials an opportunity to reassess.