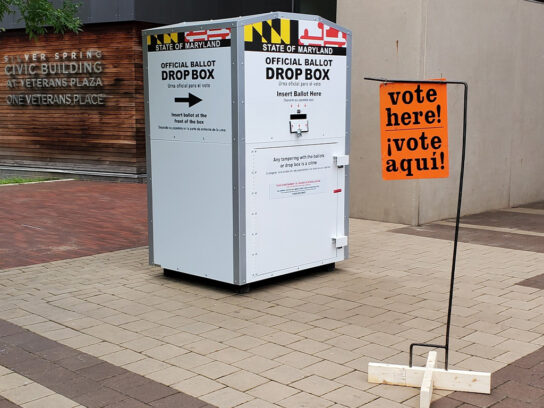 Montgomery County will have 39 voting centers, 11 of which will also operate as early voting centers, for the Nov. 3 election.
The centers are located throughout the county so that 99.6 percent of voters will be within five miles of where they can cast a vote, according to the Maryland State Board of Elections. Unlike prior years, registed voters will not be voting at an assigned precinct. To accomodate for more social distancing and a lack of election judges, voters will be able to cast their ballot at any voting center in the county.
The 39 voting centers mostly will be located in public high schools and county recreation centers.
Voters also may request a write in ballot so they do not have to go to a voting center. As of Aug. 27, 96,269 Montgomery County residents had requested a ballot to mail in or place in a drop box. Of the almost 100,000 requests, 75,000 were sent in by mail and 20,000 were email requests, according to the Maryland BOE.
The county BOE has requested 40 drop off boxes, but is not sure how many it will be allocated by the state BOE, said Gilberto Zelaya, community empowerment, public information officer with the county BOE. Zelaya said the drop off boxes will be subject to 24 hours-a-day surveillance.
While the county BOE has had an increase in people willing to be election judges, it still is lacking in bilingual and Republican judges, Margaret Jurgensen, county election director, told the state BOE at its Aug. 28 meeting.
In an Aug. 26 letter, Gov. Larry Hogan wrote that he sent out requests to 65,000 state employees and 167,000 staff and students at area colleges to serve as election judges. State employees will receive 16 hours of administrative leave for every day they serve as election judges.
About 11,000 people have expressed interest, Hogan wrote.