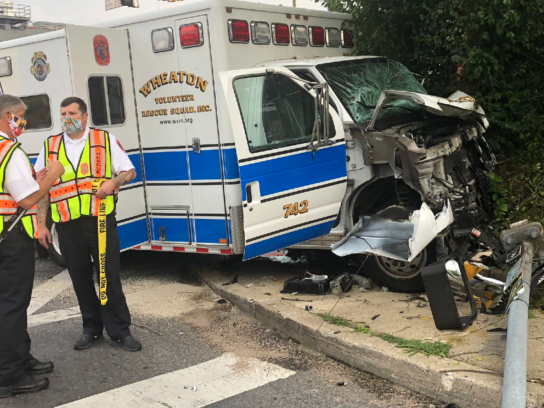 An ambulance and several other vehicles were involved in a crash in Wheaton on Thursday shortly before 4:00 p.m.
Montgomery County Fire and Rescue Service officials say the Wheaton ambulance unit was en route to a call in Kensington traveling southbound on Georgia Avenue in the area of Arcola Avenue when it collided with another vehicle at an intersection.
MCFRS Public Information Officer Pete Piringer says several other vehicles were involved as well.
Two of the three people in the ambulance were taken to a local hospital as a precaution. An eight or 9-year-old child from one of the other vehicles was also transported to a local hospital for evaluation.
Initially, some occupants were thought to be trauma patients, but there were no life-threatening injuries.
Some lanes were blocked due to the collision; however, they are now open. Authorities say the cause of the crash is under investigation.
Update – Arcola Avenue and Georgia Avenue, collision involving @mcfrs @WheatonRescue2 EMS unit (ambulance) https://t.co/nJ4Q8CQ6n1

— Pete Piringer (@mcfrsPIO) September 24, 2020
ICYMI (9/24) @mcfrs @WheatonRescue2 A742 involved in personal injury collision, Georgia Av & Arcola Av & involved 2 POV's & A742 & 4 injuries. Both members of A742 where transported at hospital, were treated & released. 2 passengers, from different vehicles, where transported NLT pic.twitter.com/yLvsnqc8dh

— Pete Piringer (@mcfrsPIO) September 25, 2020