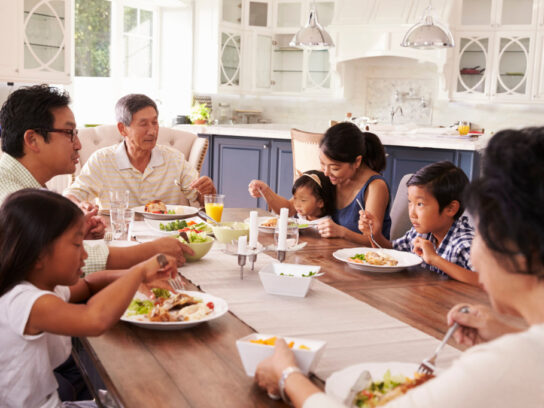 Fortune magazine recently completed a new study to identify the top 25 cities in the country where multi-generational families are most likely to have access to critical resources, community support, and financial well being. Gaithersburg ranked seventh in the country.
According to a Pew Research Center survey conducted in October 2021, almost a quarter of adults in the country are part of the "sandwich generation." They have at least one parent 65 or older and are either raising a child younger than 18 or providing financial support to an adult child. Therefore, they have significant responsibilities to their parents and their children at the same time.
More than half of Americans in their 40s act as a caregiver for their parents as well as their children, in some capacity, according to the survey.
Fortune released their first "Fortune 25 Best Places to Live for Families" ranking on Sept. 28. based on, in part, a survey conducted by The Harris Poll on behalf of Fortune in August.
In order to create the ranking, Fortune looked at community resources available to support families in the "sandwich generation." They considered the quality of education, resources for the aging, wellness factors, affordability, and livability for nearly 2,000 cities and towns across the U.S.
The top 10 best places to live for families in the sandwich generation:
Ann Arbor, Michigan
Wylie, Texas
Olathe, Kansas
Mason, Ohio
Morrisville, North Carolina
Clearfield, Utah
Gaithersburg, Maryland
Leesburg, Virginia
West Chicago, Illinois
Novi, Michigan
Data sources for this study include America's Health Rankings, ATTOM Data Solutions, the Council for Community and Economic Research, the School Finance Indicators Database, Everytown Gun Law Rankings, Homeland Infrastructure Foundation, Integrated Postsecondary Education System, Johns Hopkins University Data Archive, Kaiser Family Foundation, Realtor.com, SchoolDigger, and STI: Popstats.
In addition to private-sector data, Fortune relied on information from federal agencies such as the Centers for Disease Control and Prevention, the Centers for Medicare and Medicaid Services, the Environmental Protection Agency, the Federal Bureau of Investigation, the Federal Emergency Management Agency, the National Center for Education Statistics, the National Center for Health Statistics, the U.S. Department of Agriculture, the U.S. Bureau of Labor Statistics, the U.S. Census Bureau, and the U.S. Department of Education.