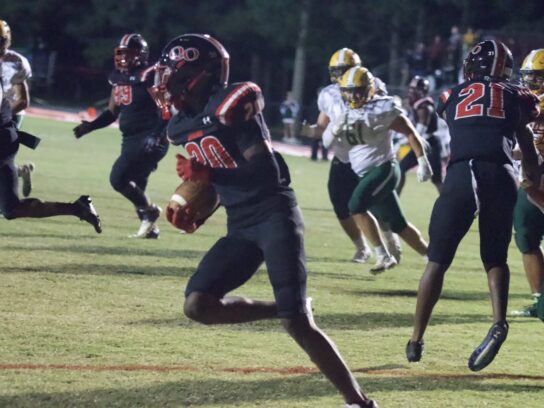 Quince Orchard stayed undefeated and handed Damascus its first loss this season in a 28-0 home victory.
Quince Orchard's front seven contained the Hornets' usually potent rushing attack. Senior linebacker Matthieu Longa recorded several tackles, and the defensive line held its ground throughout the game.
The Cougars' secondary intercepted Damascus quarterback Thomas McDarby twice in the second half. Sophomore Ayden West came away with an end zone interception in the final seconds that preserved the shutout.
Damascus had a couple opportunities to score during the first half, but the offense failed to finish drives in the red zone, including a missed 31-yard field goal.
Despite going scoreless in the first half, Quince Orchard's offense came alive in the third quarter. Star running back Iverson Howard scored on a 58-yard touchdown less than a minute into the second half. Howard followed that up with a second touchdown late in the third quarter.
Quarterback Savan Briggs threw two second-half touchdowns, including a 30-yard score to wide receiver Zack Zarchin in the fourth quarter that iced the game for the Cougars.
Through four games this season, Quince Orchard's defense has not surrendered a single score to their opponents. They have outscored their opponents by a margin of 166-0, for an average of 41.5 points per game.
Quince Orchard (4-0) has now won 18 straight games, dating back to the start of the 2021 season. The defending Maryland 4A football state champions will take on Seneca Valley next week.
Damascus drops to 3-1 and will look to bounce back next week against Watkins Mill (0-4).