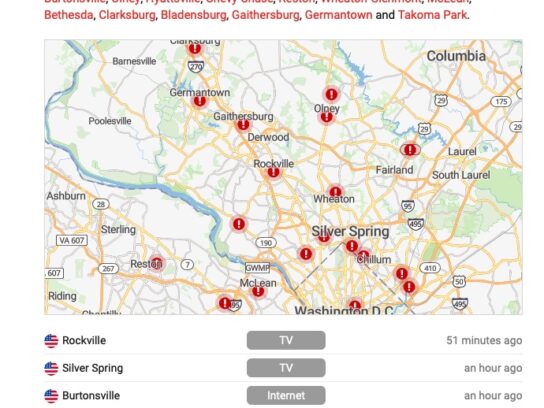 Internet, TV, and phone service is still out for thousands of residents throughout the Montgomery County area after a large fiber line was cut this morning.  Affected areas include portions of Rockville, Silver Spring, Burtonsville, and Olney.
Several Montgomery County public schools are affected:
Argyle Middle School
Earl B Wood Middle School
Rock Creek Valley Elementary
Lucy V Barnsley Elementary School
Other impacted sites include:
Avery Road Combined Care, Addiction Services, Rockville
Montgomery County Public School Lincoln Center, Rockville
Family Discovery Center, Rockville
Bauer Community Center, Rockville
East Gude Dr. at Route 355 near Crabbs Branch Way is closed in both directions as Comcast crews work to repair the broken 300+ strand fiber line.
According to reports, a vehicle struck a utility pole off East Gude Dr. and damaged the network lines.
Comcast says all service should be completed by 5:00 am on Wednesday, October 16.