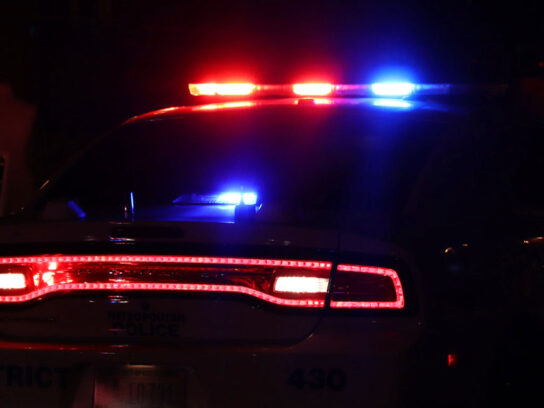 Montgomery County Assistant Police Chief Thomas Didone said racial concerns combined with a lack of concern for traffic safety have made officers reluctant to enforce traffic laws.
"To be honest with you, the concerns about pretextual stops and concerns on racial profiling in the community, without the voice of Vision Zero, has them afraid to engage," Didone told members of the county council Public Safety Committee on Thursday.
Vision Zero is a nationwide initiative that many communities are a part of, including Montgomery County. The county's goal is to eliminate serious and fatal collisions by 2030. Montgomery County's Vision Zero plan cites 'enforcement' as a focus area, which includes traffic enforcement by MCPD to keep roads safe. Didone asked councilmembers to shift their focus from racial profiling to Vision Zero.
"We are working on this to get officers back to engage for safety, the deaths are increasing, the traffic volumes are up there, these problems are existing, we have to do our jobs, but it would really help if from the council we heard more about Vision Zero and less about the concerns about racial profiling," Didone said.
At a council committee meeting this morning, Montgomery County Police Assistant Chief Didone said officers are afraid to do traffic enforcement due to concerns about racial profiling and pretextual stops.

"They're afraid to engage to be quite blunt and frank." @mymcmedia pic.twitter.com/7rR6E6ltWx

— Maryam Shahzad (@maryam_mcm) October 29, 2020
When the COVID-19 pandemic began in March, police limited traffic stops to serious violations in order to minimize exposure, Didone explained to the council committee. Traffic officers were no longer full-time employees and served as back-up if patrol officers fell ill.
"For several months our traffic officers were not even out on the roadway," Didone said. He said they were brought back at the end of August and the department has been trying to get them to resume enforcement in September and October.
"I think we'll get a lot of concerns about that," Council Vice President Tom Hucker said.
Now, officers are out on the roads as frequently as pre-pandemic times, but they just aren't pulling drivers over as often. They cannot be told they must conduct enforcement, and they do not have quotas, Didone said. They can be directed but cannot be forced.
Data for the number of stops made by officers shows a dramatic drop from March to September followed by a slow trickle upward, according to the assistant police chief. He said officers need community support.
"We're working it from multiple levels, but they need to know the community is behind them, their council is behind them and I think we'll get them back and engaged," Didone said. He said worrying about a small minority is hurting the majority.
"If there is a problem in the police department, it's a very small number but we're losing the majority because they're all worried about the small amount."