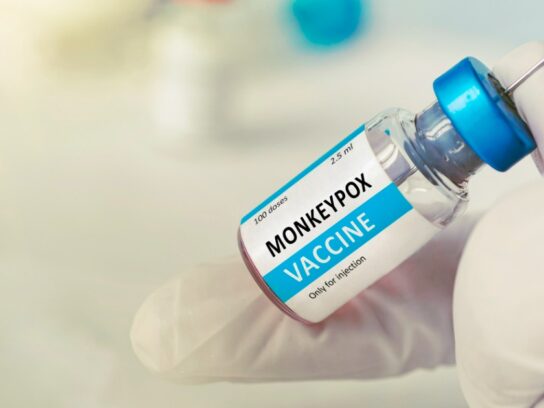 "Governor Hogan. We need more monkeypox vaccinations," stressed Montgomery Council Vice President Evan Glass during an 80-minute town hall Monday night.
So far, the county has received 850 doses, less than half the number to accommodate the more 2,000 residents who have requested to be vaccinated, noted James Bridgers, acting county health officer.
Like COVID-19, monkeypox requires two vaccines to be most effective.
About three-quarters of the vaccines on hand have been given or scheduled. That number should increase starting Wednesday when the county begins reducing the dose of the vaccine to one-fifth, as okayed by the FDA.
Currently, the county only is administering vaccines to those who know they were exposed or presumed they were exposed to someone with monkeypox. The county has a site for people to preregister for a vaccination.
"People are nervous. They are anxious and scared," Glass said. He noted that 99% of all reported cases in the United States are diagnosed in males and 94% of those with monkeypox have had a reported recent same sex contact.
However, "anyone can be at risk from monkeypox given how it spreads" by skin to skin contact, said Glass, the first openly gay person elected to the council.
The goal of this town hall as well as future ones is for people to better understand how to protect themselves and loved ones, Glass said.
To reduce the likelihood of becoming infected, people should avoid anyone who has been diagnosed with monkeypox, avoid sharing bedding and other items used by someone who has been infected or exposed and washing hands frequently, Bridgers said.
Avoid parties, clubs and saunas and other places where skin to skin contact is likely, he said.
According to the county's monkeypox website, monkeypox is a rare disease caused by infection. It belongs to the same group of viruses that cause smallpox, but is not related to chickenpox.
So far, there have been 379 cases reported in Maryland and more than 15,000 cases throughout the United States.
It is spread through direct contact with an infectious rash, scab or body fluid as well as respiratory secretions during prolonged, face to face contact or during intimate physical contact. It also can be spread through touching items used by someone infected.
Much of the town hall was spent answering questions by participants, who wondered about quarantining, vaccine equity, where to find medical LGBTQ+ affirming providers and when they might expect to be vaccinated.
Join us tonight for a virtual town hall focused on Monkeypox (MPX.) It runs from 6 to 7:30 p.m. and will be streaming but if you want to ask a question you must register here. https://t.co/XOX6ZawPRV pic.twitter.com/5NjDZYVWpE

— County Exec Marc Elrich (@MontCoExec) August 22, 2022
Here is a link to the town hall.