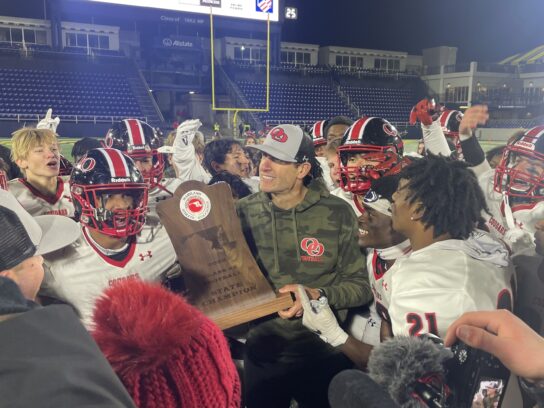 For the second year in a row, the Quince Orchard Cougars (14-0) are Maryland's class 4A state champions.
Led by running back Iverson Howard and a stout defense, Quince Orchard beat the Flowers Jaguars, 32-7.
Howard finished the game with 195 rushing yards and two touchdowns, accounting for over 60% of the Cougars' total yardage. The sophomore running back capped off Quince Orchard's opening drive with a one-yard touchdown.
Flowers responded with a touchdown on the next drive. Quarterback Sean Johnson threw a strike to wide receiver Matthew Ogunniyi for a 56-yard touchdown.
That would be the first and only time the Jaguars got on the scoreboard. Quince Orchard held Flowers to just 163 yards on offense. The Cougars dominated the line of scrimmage throughout the game and finished with three sacks, including a crucial strip-sack by defensive lineman Jaylen Harvey in the fourth quarter.
Early in the fourth quarter, with the Cougars leading 10-7, Harvey sacked quarterback Sean Johnson and forced a fumble. The ball bounced into the end zone, where linebacker Kendall Johnson pounced on it for an easy touchdown.
On the very next drive, Johnson blocked the Jaguars' punt, which resulted in a safety that grew the Cougars' lead to 19-7.
Quince Orchard's offense propelled the Cougars to victory after that. Howard scored his second touchdown of the game, and senior quarterback Savan Briggs ran for a one-yard touchdown that sealed the win.
"It felt amazing to go out on top," Briggs said in a postgame press conference.
With the win, Quince Orchard's 28th in a row, the Cougars claimed their third class 4A championship in the last five years. The win also marked Quince Orchard head coach John Kelley's 100th career win since taking over the reins in 2014.