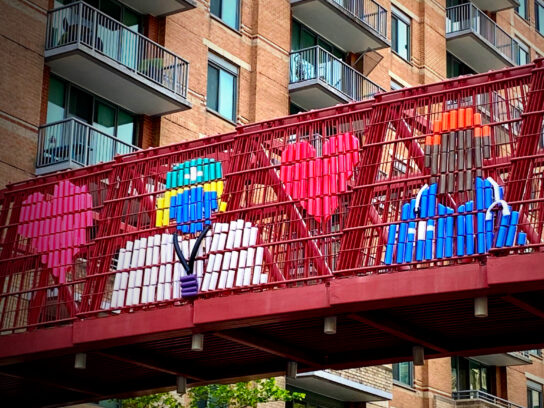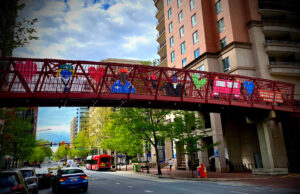 Have you noticed the colorful artwork on the pedestrian bridge over Old Georgetown Road in downtown Bethesda?
The pedestrian bridge art installation depicts healthcare workers, service industry employees, hearts, a grocery cart and more to honor all the frontline workers and emergency responders responding to the coronavirus public health emergency in the community.
Board members of the Bethesda Arts and Entertainment District recently completed the public art project on the pedestrian bridge at 7600 Old Georgetown Road. Local artists and business owners who worked on this art project include Cathy Bernard, Jane Fairweather, Suzanne Firstenberg, Judy Gilbert Levey, David Goldberg, Mark Kramer and Leslie Lane.
The original design was created by local business owner David Goldberg and Bethesda artist Judy Gilbert Levey.
Goldberg said, "I wanted to create something that expressed our thankfulness to everyone working so hard to take care of our community. With several artists and an architect on our Board, we were able to easily come up with the right materials, colors, design and hands-on help to implement and install this artwork of appreciation."
The artwork is made of colorful pool noodles and intends to thank those people working every day to keep local residents safe during the COVID-19 pandemic.
Photos courtesy Bethesda Arts and Entertainment District