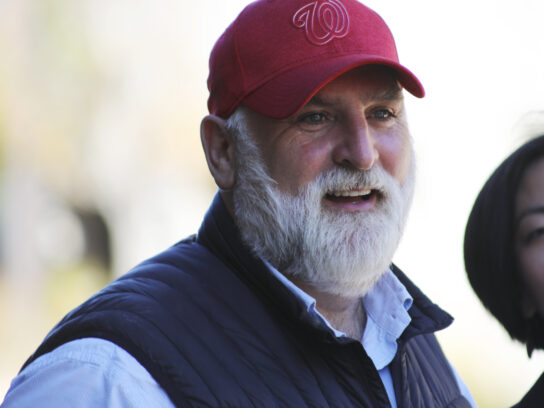 As he has done during so many natural disasters, Chef Jose Andrés of Bethesda has brought his World Central Kitchen staff and volunteers to feed Ukrainians, both those who remain in that country and those who are fleeing to nearby border countries for safety.
World Center Kitchen continues to cook thousands of meals with chicken, stew, rice, soup, pasta, bread and apple pie to feed as many Ukrainians as possible. The organization has stations in Poland and Romania, very close to the border with Ukraine and plans to expand to other countries. It has been feeding the people fleeing the bombs and shooting by the Russians as well as those remaining to fight.
The people are fleeing with very little possessions during a time of freezing weather and snow, Andrés said in a video. "It's freezing cold. I don't know how people do it," he said.
People of the World…Reporting from the Ukraine border! This is one of the places @WCKitchen has hot meals. It is below freezing tonight & I am meeting so many refugees, families who are escaping & don't know what's next…We will do our best not to let them down! #ChefsForUkraine pic.twitter.com/YiEemUfLlC

— José Andrés (@chefjoseandres) February 28, 2022
As snow fell in Medyka today, the WCK team served 4,000 hot meals over 18 hours. Tonight we are setting up a tent and tomorrow will begin providing meals 24 hours a day as families continue to cross the border at all hours of the night in search of safety. #ChefsForUkraine pic.twitter.com/HVNaB8BlJF

— World Central Kitchen (@WCKitchen) February 27, 2022
This is Shatabdi & her cat Crimsee! 🐈 They overnighted in a bunker in Ukraine, then walked 60 kilometers & waited 12 hours in line at the border with no food before meeting the @WCKitchen team. She was having trouble walking & found the wheelchair on the way. #ChefsForUkraine 🇺🇦 pic.twitter.com/ZFCGqAByX5

— Nate Mook (@natemook) February 27, 2022
Fresh meals coming out of the kitchen in Odessa, Ukraine! WCK is working with Chef Aleksander Yourz & team at Yourz Space Bistro prepping 1,000 plates of pasta & fresh baked bread for residents & those defending the city—they'll scale up service as they're able. #ChefsForUkraine pic.twitter.com/zmWXSkwbgD

— World Central Kitchen (@WCKitchen) February 27, 2022
First @WCKitchen meals in Odessa Ukraine! This is Chef Aleksander Yourz…his team at Yourz Space Bistro cooked 1,000 meals today for residents stuck in Odessa & Ukrainians defending the city! Only a start—WCK is supporting chefs in many cities to feed the hungry! #ChefsForUkraine pic.twitter.com/7qjLktWnMi

— José Andrés (@chefjoseandres) February 27, 2022
Scenes from the Ukraine border tonight: This is the busy Medyka pedestrian crossing & Korczowa accommodation center. As families crossed into Poland, the @WCKitchen team served up hot chicken stew, soup, tea & apple pie! THANK YOU for making this work possible 🙏 #ChefsForUkraine pic.twitter.com/mgCh38jdac

— Nate Mook (@natemook) February 27, 2022
UPDATE from the border of Ukraine 📽️ 150,000+ people have fled—WCK's @SamBloch1 is at an accommodation center where buses bring families after they cross into Poland. We're still serving meals at the border while also expanding to serve in Moldova & Ukraine soon. #ChefsForUkraine pic.twitter.com/0oiSxQkETE

— World Central Kitchen (@WCKitchen) February 27, 2022
From our @WCKitchen team on the border of Ukraine and Poland: 1,700
hot meals of chicken, rice & veggies served here tonight! This is a 24-hour crossing and refugees from Ukraine are streaming through all night. This is just a start to WCK efforts on the ground! #ChefsForUkraine pic.twitter.com/k7A5XYaICt

— Nate Mook (@natemook) February 26, 2022