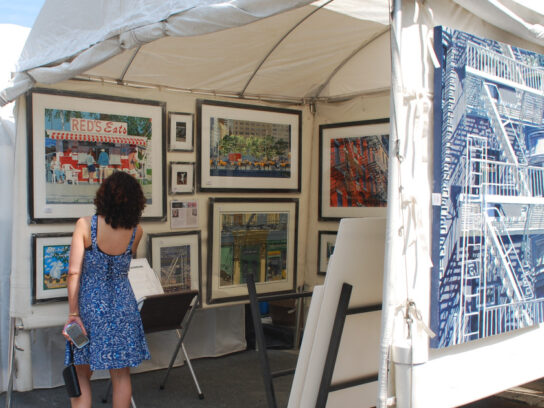 The 17th annual Bethesda Fine Arts Festival, which has not been held for the past two years due to COVID-19, features 130 artists and live entertainment.
Contemporary artists from around the county will display and sell their fine arts and crafts at the two-day festival in Woodmont Triangle, along Norfolk, Auburn and Del Ray Avenues in Bethesda. Hours are 10 a.m. to 6 .m. on Saturday, May 14 and 10 a.m. to 5 p.m. on Sunday, May 15. It will be held rain or shine.
Restaurants including Bethesda Curry Kitchen, Dog Haus Biergarten, Smoke BBQ and The Red Bandana will sell food and drinks including beer and wine. Sara Jones, Eric Scott, iLyAmy, Andrew O'Day, Jay Byrd and The Musical Trust and Jarreau Williams are scheduled to entertain.
Free parking is available in the public parking garage on Auburn Avenue.
It's been three years since we've had 100+ artists on Norfolk & Auburn Avenues! The Bethesda Fine Arts Festival returns on Saturday, May 14 & Sunday, May 15 to Bethesda's Woodmont Triangle. Take a look at all the talented artists attending this year, https://t.co/ZR6t3TxFiV. pic.twitter.com/PnOzkW8bZg

— BethesdaUP (@BethesdaUP) May 4, 2022