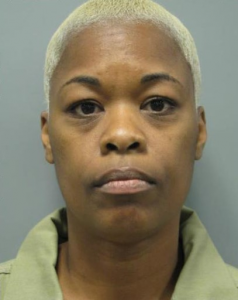 A woman has been arrested and is facing charges including child abduction, kidnapping, and first degree assault.
According to a police statement, 39-year-old Yashica Terry of Bethesda forcibly grabbed a four-year-old child while she was walking with her grandfather on a sidewalk on Woodmont Avenue near Norfolk Avenue shortly before 7:00 p.m. on Monday.
Officials say Terry violently shoved the grandfather from behind, causing him to fall on the sidewalk. That's when the suspect took the child into a nearby store where they were found hiding behind clothing racks. Employees stated that while in the store with the child, Terry yelled at them and threatened to harm the employees.
After being alerted by witnesses, police located and removed the child from the store and took Terry into custody. Terry told the officers that she, "felt the vibe between the male and child was off."
The 76-year-old grandfather was transported to a local hospital with serious but non-life-threatening injuries. The child was not injured and was reunited with her parents.
Terry was transported to the Central Processing Unit and is being held without bail.
Suspect Arrested for Child Abduction and Kidnapping in Bethesda-https://t.co/5YLzHErMAy

— Montgomery County Department of Police (@mcpnews) November 19, 2019