Final Jeopardy answer for $35,000 – Isaac Applebaum
Question – Who is the 2019 Richard Montgomery High School graduate from Bethesda who took fourth place in the Jeopardy! National College Championship?
Applebaum, a junior at Stanford University, competed in the tournament, successfully earning his way all the way up to the finals. But under the rules of the televised contest, he did not appear in the finals as he had the fourth highest score> And only the top three were chosen. Instead, he will compete later this year in a second chance tournament.
"It was a little disappointing," admitted the 23-year old who is majoring in computational biology. However, he said, "This was something I always dreamed of doing, and I got the chance to do it."
Together with his family, Applebaum has watched Jeopardy! since he was "a little kid," and his family always suggested he try out. One day last year, when he was living at home due to the pandemic, he heard a pitch for the college championship. He took the test and ended up competing on television with 36 other students.
He really enjoyed getting to know the other contestants, who all stayed in the same hotel. They shared their experiences and final scores with each other, something they were not permitted to mention with anyone until after the show aired.
He was surprised how the production crew worked to make sure everyone was about the same height to make it easy for viewers to watch. For that to happen, Jeopardy! used an adjustable block with a motor at each podium for the contestants to stand on. For the shorter people, the block is lifted up. For the taller ones, the block is removed, he said.
"This is some thing that you'll never not notice if you watch Jeopardy," Applebaum said, adding. "It makes it easier to frame the shot."
He also enjoyed getting to know host Mayim Bialik, who did an impromptu Q and A at one point when there were technical difficulties and, therefore, down time. "We got to hear all about her life as a scientist, as an actor. It was really cool to connect with the people who make the show happen. Viewers just see it as the perfect final product, but really, this was people doing something really amazing together."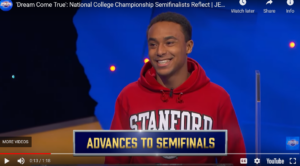 Applebaum plans to use most of his winnings to help pay for medical school, but he also will donate to a food bank in Montgomery County or the D.C. area, he said.
He credits his Eastern Middle School in Silver Spring Middle School music teacher, Daniel Puckett, for planting the love of music within him, something that continues to blossom. Since middle school, he has played jazz piano in school, bands, farmers markets, and even the Kennedy Center. He participated with the Jazz Academy, taking classes and participating in summer camps in Montgomery County. He also enjoys composing.
He also played baseball and ran track at Richard Montgomery.
He credits the hand-eye coordination he learned as a musician for helping him ring the buzzer quickly.
The way that works, host Mayim Bialik reads an answer. As soon as she is finished, lights turn on and contestants can then buzz in. If they do it before that, they are locked out for less than a second, but that generally is the difference between being chosen to answer and earning points or not.
Applebaum hopes to be an oncology doctor, something he decided during his mother's bout with breast cancer, while he was in high school. She currently is cancer-free, and he hopes to use his knowledge of biology and chemistry to save others with a cancer diagnosis.
Here is what Applebaum told MyMCM about Jeopardy and growing up in Montgomery County.
Related Post
Richard Montgomery Grad Wins Semifinal Round but Eliminated from Jeopardy! College Championship