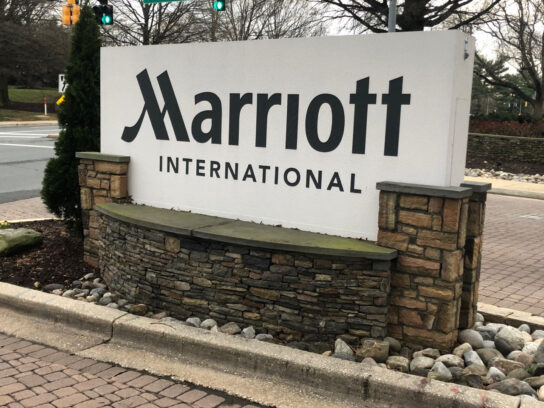 Marriott International, which is headquartered in Bethesda, announced it has laid off thousands of employees and temporarily closed some of its hotels throughout the world to help it weather the Coronavirus pandemic. In many of its hotels, "we are moving to shortened work weeks, in the U.S., we are also putting in place [mandatory] temporary leaves for at least the next 60 to 90 days that will impact most associates at our headquarters" and other locations, said President and CEO Arne Sorenson, in a six minute video message to employees.
"COVID-19 is like nothing we've seen before," Sorenson said, adding that Marriott began 92 years ago and survived the Great Depression and World War II.
This is worse than 9-11 and the depression in the late 2000s, he said, noting that at that time, the hotels experienced a 25 percent decline in revenues
Currently, revenues are way down, he said. In China, revenues fell 90 percent since January. Most of Marriott's business is "75 percent below normal."
Occupancy rates in North America and Europe currently are below 25 percent. Last year at this time, the occupancy rate was 70 percent, Sorenson said.
With restrictions on travel, the number of people who can be together and social distancing, "many hotels can't keep operating," he said in the video.
Therefore, Marriott has furloughed thousands of employees, suspended all nonessential travel for its own employees, paused almost all new hires and "gone dark on marketing and advertising," he said.
Sorenson and John Marriott Jr, executive chair and chair of the board of Marriott International, will not receive a salary during 2020. The executive team is receiving a 50 percent cut in pay.
Also, Sorenson said, "We are moving to shorten work weeks."
At most hotels, the food and beverage outlets are closed, as are some of the floors at many hotels, he noted.
The company estimated that these cutbacks "will reduce 2020 corporate general and administrative costs by at least $140 million. As additional measures continue to be implemented, this number is expected to grow."
Sorenson ended his video on an upbeat note, stating that although "I have never had a more difficult moment than this one, I have never been more determined to see us through."
When government restrictions are lifted, Marriott "will be there to greet" its guests. "Together, we can and we will overcome this and thrive once again."
County Executive Marc Elrich called Marriott's business decisions unfortunate but understandable.
"It's really unfortunate, but certainly we understand. They certainly have crashing sales at this point," he said.
"It's going to be hard for the people who are laid off," Elrich said.
"We just need to do what we can to make sure it ends as soon as possible," he said of the restrictions that are keeping people from frequenting the motel chain.
He added it was important for the government to support businesses during this time.
Montgomery County Council President Sidney Katz noted that while council has yet to speak specifically about Marriott's future, "We are certainly very, very concerned about all businesses."
Each business that closes or cuts back has a ripple effect throughout the county, he noted.
Marriott has more than 7,300 properties in 134 countries and territories. It was founded by J. Willard and Alice Marriott in 1927.