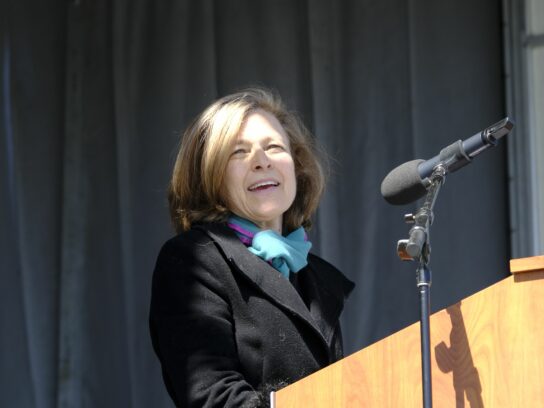 President Joe Biden nominated Sarah Bloom Raskin of Takoma Park to serve as Vice Chair for Supervision of the Board of Governors of the Federal Reserve System. She must be confirmed by the Senate.
Bloom Raskin previously served as the Deputy Secretary of the U.S. Department of the Treasury and as a Governor of the Federal Reserve Board. She served a on the Federal Reserve Board from 2010 to 2014. She is the wife of U.S. Rep. Jamie Raskin (D-8th).
Jerome Powell is chair of the Federal Reserve, which conducts the nation's monetary policies.
"We are at a moment of historic economic progress alongside unique economic challenges as we work to drive our recovery forward. This is a moment that calls for sound, independent leadership from the Board of Governors at the Federal Reserve," Biden said. "Raskin is among the most qualified nominees ever for the position of Vice Chair for Supervision," Biden said in a White House announcement Friday.
Biden also nominated Lisa Cook and Philip Jefferson to serve on the Board of Governors.
U.S. Sen. Chris Van Hollen praised Bloom Raskin. "The President's nomination of a fellow Marylander, Sarah Bloom Raskin, to serve as the Vice Chair of Supervision, is a brilliant choice. Sarah's expertise qualifies her beyond compare, but as a Marylander and a good friend, I'm especially proud to support her," he wrote in a statement.
"As our nation continues to face a range of economic challenges – including the impact of COVID-19, the need to create more shared prosperity, and the accelerating financial and other threats of climate change – we need wise and strong leadership at the Federal Reserve. President Biden's nominees, Sarah Bloom Raskin, Lisa Cook, and Philip Jefferson, are prepared and superbly qualified to meet the tests of our time, and the breadth and diversity of their experiences and backgrounds will serve the American people well," Van Hollen said. 
Councilmember Hans Riemer tweeted his congratulations to Bloom Raskin. " Our country will be better off because of your service in this role," he tweeted.
Bloom Raskin has served as the Commissioner of Financial Regulation for Maryland, where she and her agency were responsible for regulating Maryland's financial institutions, including all state-chartered depository institutions, banks, credit unions, mortgage lenders, mortgage servicers, and trust companies among others.
She currently is the Colin W. Brown Distinguished Professor of the Practice of Law at the Duke University School of Law as well as the board of trustees of Amherst College. She received her B.A. in economics from Amherst College and her J.D. from Harvard Law School.
As we face a range of economic challenges — from COVID-19, to the need to create more shared prosperity, to climate change — we need strong leadership at the Fed. That's why I'm glad to see @POTUS nominate Sarah Bloom Raskin, Lisa Cook, and Philip Jefferson.

— Senator Chris Van Hollen (@ChrisVanHollen) January 14, 2022