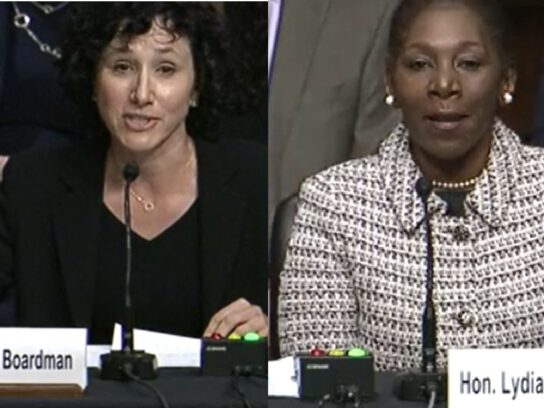 The two women President Joe Biden nominated to sit on the Maryland U.S. District Court had their hearings before the U.S. Senate's Committee on the Judiciary Wednesday morning. Both have ties to Silver Spring.
U.S. Claims Court Judge Lydia Griggsby of Silver Spring currently serves as chair of the Court's Committee on Legislation and Policy and is a member of the Court's Management Committee. She is a life-long Maryland resident. If confirmed by the Senate, Judge Griggsby would be the first Black woman to serve as a U.S. District Court Judge for the District of Maryland.
Deborah Boardman is a United States Magistrate Judge for the United States District Court for the District of Maryland, a position she was appointed to in 2019. She was born in Silver Spring and currently lives in Baltimore. She was a Fulbright Scholar in Amman, Jordan. During her 11-year tenure with the Federal Defender's office, Boardman represented individuals charged with federal crimes in the Greenbelt and Baltimore courthouses.  She was appointed as a Magistrate Judge in 2019.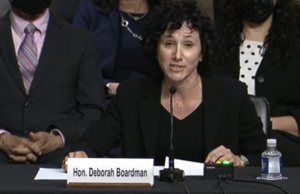 When introducing them to committee members, both U.S. Senators Chris Van Hollen and Ben Cardin praised the two women, who both have received a "well qualified" rating by the American Bar Association, which is that organization's top rating.
Van Hollen said both women would "provide Marylanders fair, just and equal treatment under the law." He also said they would "serve the people of Maryland with integrity and distinction."
He noted that Boardman was a public defender for more than 10 years and "knows firsthand the importance of ensuring every voice is fairly represented in our courts. Her strong Maryland roots have given her a deep knowledge and love of our state.
He cited Griggsby's 20 years in public service and her "deep commitment to public service and justice for all."
Cardin praised Griggsby, noting, "She brings to the bench a wide array of professional experiences from our other two branches of government, as both a trial attorney and prosecutor at the U.S. Department of Justice and as counsel to the Senate Ethics and Judiciary committees."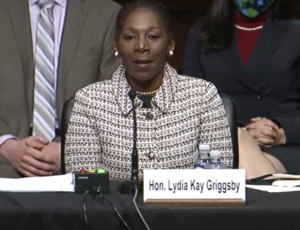 Judge Boardman was nominated to fill the future vacancy created when Judge Richard Bennett, who was appointed by President George W. Bush in 2003, announced his intention to semi-retire upon the confirmation of his successor. Judge Griggsby was nominated to fill the future vacancy created when Judge Catherine Blake, appointed by President Bill Clinton in 1995, semi-retired on April 2, 2021.
Griggsby and Boardman spent the morning answering questions by Senate committee members. They also will answer written questions that were submitted by senators.