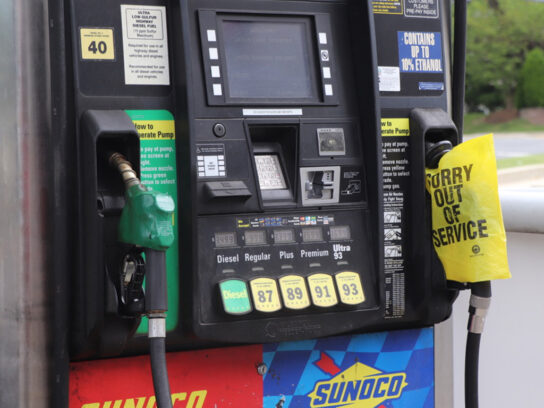 Olney appears to be ground zero in Montgomery County for long lines and gas shortages following a ransomware attack that shut down the Colonial Pipelines, the largest pipeline system for refined oil products in America. The 5,500 mile long pipeline carries up to 3 million barrels of fuel daily between Texas and New York.
However, panic buying and shortages don't appear to be countywide.
"Montgomery County is in pretty good shape" and is not experiencing gasoline shortages, John Townsend, manager of public and government relations at AAA Mid-Atlantic, said Wednesday morning. "As of yet, we haven't seen shortages in Montgomery County."
That is not the case in the Northern Virginia-Richmond area, he added.
However, he noted, "The big issue we are seeing in Maryland" in rapidly increasing gasoline prices. Last week, the average price for regular has was $2.84. Today it is $2.95, an increase of 11 cents a gallon in one week. The prices for mid-grade and premium each jumped 10 cents in one week, Townsend noted.
Generally, in the suburbs of Washington, D.C., the average price of regular gas is $3.01 as compared to $2.92 the previous week.
Townsend urged drivers not to top off their tanks.
In response to panic buying at the pumps seen around the county and state the last couple of days, Maryland Comptroller Peter Franchot said, "I urge everyone to stay calm."
The Exxon across the street from Fletcher's on Georgia Ave is completely out of gas and has turned off its electric sign. @mymcmedia pic.twitter.com/PCLCkabxgO

— Deirdre Byrne (@DeirdreByrneMCM) May 12, 2021
Gasoline Safety – Gasoline is common both at work & home for use in vehicles & equipment we use every day. IMPORTANT to practice safe handling & storage of gasoline to avoid spills & fires. Improper use & storage of gasoline leads to injuries & property damage – Use Common Sense! pic.twitter.com/n7u93AXav2

— Pete Piringer (@mcfrsPIO) May 12, 2021
Related Posts:
Olney Residents Scramble for Fuel Amid Gas Shortage at Stations
Olney Residents Scramble for Fuel Amid Gas Shortage at Stations