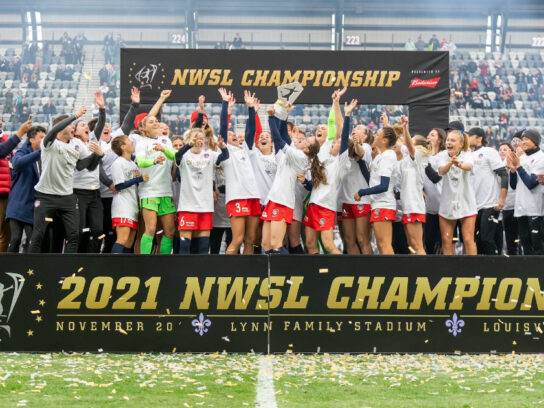 You can add the Washington Spirit to the growing list of recent championship teams in Washington, DC.
The Spirit beat the Chicago Red Stars 2-1 in the National Women's Soccer League (NWSL) championship game Saturday in Louisville. Goals by Andi Sullivan, a former member of the Bethesda Soccer Club, and Kelley O'Hara in the first extra period lifted the Spirit to its first ever championship.
The Spirit joins three other local pro teams who have won championships in the last three years. The Capitals won the Stanley Cup in 2018, the Nationals won the World Series and the Mystics won the WNBA championship both in 2019.
Congratulatory tweets for the Spirit came from far and wide including President Biden:
Congratulations to the Washington Spirit on winning your first-ever NWSL championship. Despite a year with no shortage of challenges, you've made the District and your country very proud.

— President Biden (@POTUS) November 20, 2021
They don't call us the #DistrictOfChampions for nothing!

Congratulations on your championship win @WashSpirit! pic.twitter.com/JCw5U2D2Xi

— Mayor Muriel Bowser (@MayorBowser) November 20, 2021
🏆 You took the biggest step!!! Congrats @WashSpirit Make DC Proud !!🍾🍻 pic.twitter.com/GLbm2Q4NQd

— Alex Ovechkin (@ovi8) November 20, 2021
Congratulations to the @WashSpirit on winning their first-ever #NWSL championship.

— Billie Jean King (@BillieJeanKing) November 21, 2021
SPIRIT WIN! SPIRIT WIN! SPIRIT WIN! pic.twitter.com/bthy2b3Ke8

— D.C. United (@dcunited) November 20, 2021
LET'S GO 👏

Congrats @WashSpirit https://t.co/QO6Ukra0JU

— Washington Wizards (@WashWizards) November 20, 2021
Congratulations ladies. Very impressive win after a very trying season. Great example of how to triumph over adversity! #Champions https://t.co/iqW7pY2aEu

— Ron Rivera (@RiverboatRonHC) November 20, 2021
The team announced Monday afternoon that there will be a parade to celebrate the championship but that it will come in 2022 at the beginning of next season.