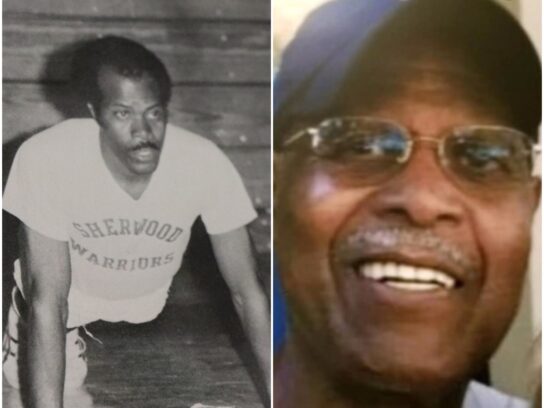 Originally published on Feb. 20, 2020.
Warren Crutchfield is a legend at Sherwood High School in Sandy Spring.
Shawn Hillman, a teacher at Sherwood and a Class of 1990 alumnus, considered Crutchfield — who died at 82 years-old in July 2019 — to be a mentor and father figure.
"He's an absolute warrior and not a warrior as in a battle warrior, but a warrior as in a Sherwood Warrior," Hillman said.
Crutchfield Leaves a Legacy as a Montgomery County Black History-Maker
Crutchfield worked at Sherwood for about 33 years teaching physical education and coaching basketball, track and field, and cross country. During his time coaching at Sherwood, Crutchfield's teams had more than 400 wins. In 2010, Crutchfield was inducted into Sherwood's Athletic Hall of Fame.
He was one of the first black head coaches of a major sport at a Montgomery County public school and he was the first black head coach for track and field.
Crutchfield lived in Rockville his whole life and grew up in the house his ancestors purchased after they were freed from slavery. He attended the segregated Carver High School and made it to the Olympic trials in track and field. In 1960, Crutchfield was drafted by the U.S. Army which, at the time, was in the process of integrating its members. He graduated from the University of Maryland Eastern Shore and he's since been inducted into the school's Athletic Hall of Fame.
"He's definitely a historical figure, a trailblazer, an [has had a tremendous] impact in the county," Hillman said.
In November, Eric Minus, the principal of Sherwood, announced that the school was considering renaming its gymnasium after Crutchfield because of a petition that had been circulating. A committee has since formed to review the petition and gather feedback about the possibility of renaming the gym.
'He Lived and Breathed Sherwood High School': Crutchfield's Impact on Students, Athletes
Hillman grew up in the Olney community and while he was attending St. Peter's Elementary School, he would always hear about the legendary "Coach Crutch" at Sherwood High School.
While in high school, Crutchfield taught Hillman to not make excuses and to work hard. Even after graduating from Sherwood, Hillman said Crutchfield still kept in contact with Sherwood graduates and would go to every reunion.
Kristen Prophet, a class of 1988 Sherwood alumna, said when she attended high school there were not a lot of black students or teachers. Having Crutchfield as a teacher and coach made black students feel like they weren't outsiders, Prophet said.
"He was a big proponent of all things female and absolutely all things African American," Prophet said.
Prophet, who played on Sherwood's basketball varsity team that won the regional championships in 1988, said Crutchfield "made girls sports special and at the same level as the boys."
Crutchfield coached varsity girls basketball from 1978 through 1996 and is Sherwood's most-winning girls' basketball coach ever. In addition to his success as a coach, Crutchfield was a family man and remained active in his community.
Hillman said everyone who went to Sherwood during the days of Crutchfield has a story about Crutch. Prophet describes Crutchfield as someone who "lived and breathed Sherwood High School" and made every student feel like they were "his favorite."
"When you have that kind of touch that everyone feels that they're your favorite, that's a special kind of coach," Prophet said.
Related post:
Sherwood Varsity Gym Officially Named After Legendary 'Coach Crutch'