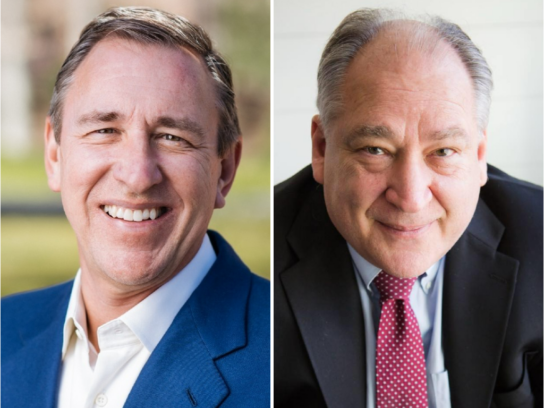 Businessman David Blair still leads incumbent Marc Elrich in the Democratic race for County Executive. But the race among the Democratic candidates couldn't be much tighter. The Board of Elections latest results posted Sunday morning show Blair in the lead by 21 votes. Blair has 47,980 votes to Elrich's 47,959 votes which is just a 0.02% difference.
In 2018, Blair lost the primary election to Elrich by a total of 77 votes.
Processing ballots continues today at the Board of Elections in Gaithersburg. Today the volunteers tackle questionable mail in ballots. Some may be duplicates of in person voting or were not signed before being mailed. Counting ballots resumes on Monday at at the Germantown Montgomery College campus. The public may observe the process in person or watch the live stream. More information is available online at the Board of Elections website.
(Numbers from the Maryland State Board of Elections)
Democratic Candidates
Last updated: 07/31/2022 10:32:36 AM
| Name | Party | Early Voting | Election Day | Mail-In Ballot / Provisional | Total | Percentage |
| --- | --- | --- | --- | --- | --- | --- |
| David T. Blair | Democratic | 8,328 | 21,026 | 18,626 | 47,980 | 39.27% |
| Marc Elrich | Democratic | 7,453 | 20,575 | 19,931 | 47,959 | 39.25% |
| Peter James | Democratic | 325 | 1,142 | 650 | 2,117 | 1.73% |
| Hans Riemer | Democratic | 4,203 | 10,838 | 9,087 | 24,128 | 19.75% |