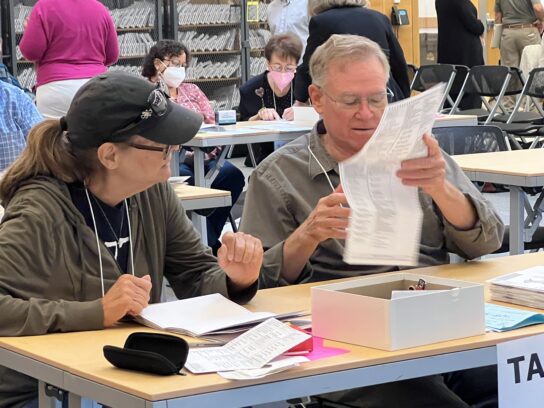 Certified volunteers continue to canvass ballots at Montgomery College's Germantown campus. As of Friday morning, there were 22,000 more mail-in ballots and 8,000 provisional ballots to process.  And the latest results are in.
With a 39.32% share of the current ballots counted, challenger David Blair maintains the slight lead he established earlier this week by a margin of 131 votes.
Not so far behind, incumbent County Executive Marc Elrich can claim 39.21% of the current total with 48, 693 votes. But his opponent stays ahead with 48,824 votes in his column.
Remember the last time these two rivals faced off four years ago, Elrich squeaked out a victory by 77 votes. This year's race promises to be equally tight, so keep checking back to mymcmedia.org for the latest results.
Vote counting resumes tomorrow.