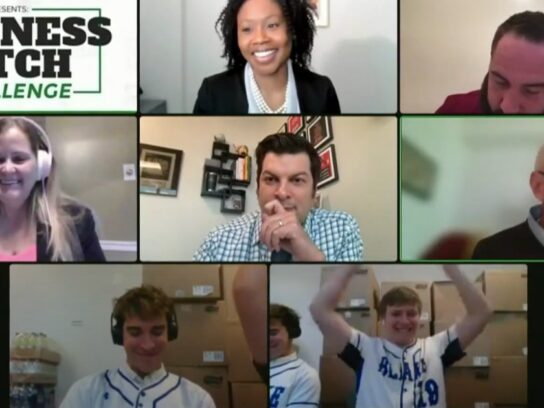 During an annual Montgomery County Public Schools (MCPS) competition inspired by the television show "Shark Tank," high school students shared their business pitches.
During the virtual event Thursday morning, student teams from seven high schools shared videos of pre-recorded business pitches, to be followed by a live question-and-answer session between teams and judges. 
The first place winner is the team from Blake High School. Students presented "Cultivate": an interactive mobile app designed to build healthy habits and accelerate personal growth. The app format changes as the user builds habits, starting with small habits and growing to larger ones, which "builds a personal connection between the user and the app," said Joey Sauro, a senior at Blake. 
"Thank you to my business teacher, and just all the support around," Sauro said. "It was a great experience."
"I just appreciate the whole experience. I love doing this," said Zack Temenak, also a senior. Carter Darrington is another senior on the winning team. Team Blake will receive a trophy and the top three teams will be awarded gift cards. All participants get medallions.
Kennedy High School students won second place with "Chingona": a jewelry and accessory brand that aims to support domestic violence prevention and education. Third place went to the team from Northwest High School, which presented "Serenity Cafe," a cafe that offers mental health programs and support. 
Competing high schools included Blake, Churchill, Gaithersburg, Kennedy, Northwest, Northwood and Paint Branch.