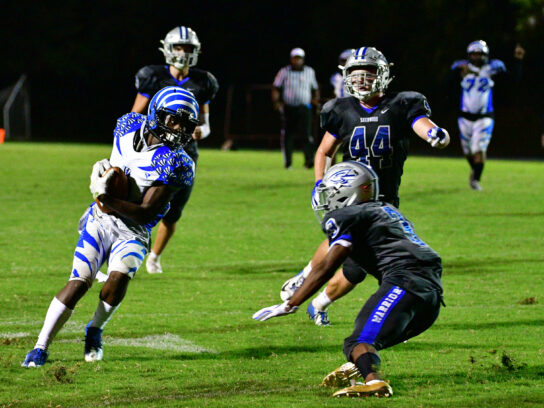 Friday the 13th was a lucky day for the football Bengals of Blake High School.  The luck came in the form of a late fourth-quarter block of a Sherwood punt that resulted in a touchdown.  The two-point conversion that followed tied the game 14-14.  Blake trailed the entire game but when it mattered they came up big.  The stunned Sherwood fans could only watch in silence as the Bengal faithful were completely thrilled as their screams swept through the crowd.
Sherwood had 5:28 in the fourth quarter to score and end the lucky streak Blake was riding.  The drive they put together was capped by a long pass play that put the Warriors inside the 20-yard line.  However, back along the sideline was a flag.  The flag was thrown before the long play and was the result of a sideline violation by the Sherwood coaching staff.  Both teams had been warned earlier in the game.  This penalty killed the drive, another lucky break for Blake on Friday the 13th.  The play ends and the 14-14 score takes us into overtime.
Sherwood had the ball first in overtime and on the first play, they scored a touchdown and completed the point after to make the score 21-14.  Blake now gets a chance in overtime to match the touchdown or lose the game.  The Bengals like the Warriors score on the first play in overtime.  Blake lines up for a two-point conversion just like they did to take the game into overtime.  The successful two-point conversion cleared the Bengal bench and the stands emptied as the joyous team and students swarmed the field.  The Friday the 13th 22-21 win at Sherwood will be remembered by Blake players and fans for some time to come.  What a thrilling win.
Pictures to follow by Daryl Schultz