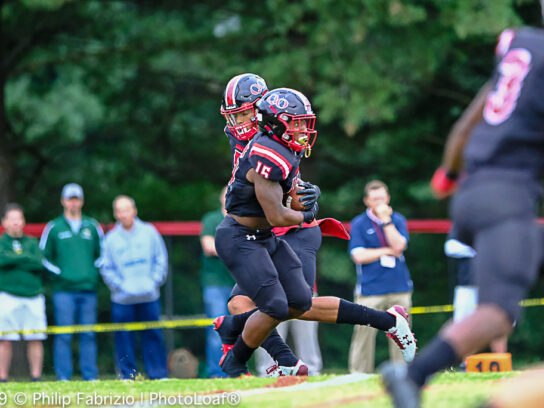 Damascus High School held command over MoCo football competitors for nearly eight years. The Hornets were only defeated once since 2011 and that was by Quince Orchard in 2013.  Quince Orchard found a way in the fourth quarter to hand Damascus it's first on-field season defeat, by a score of 21 to 7. Damascus, ranked #8 in the DMV is 0-2 to start the season. Their 0-2 record is due in part to a violation of MPSSAA rules for an illegal spring practice resulting in a first game of the season forfeit (Rockville, last week).
Damascus since 2013 has bounced around the Class 3A and 2A state division moving back up to 3A in 2019. Damascus is expected to excel in the 3A class competing against both 3A and 4A teams from Montgomery and Frederick counties.
Ultimately, on this night, it was the Hornets inability to control and secure the football (2 turnovers) that let the gas out of their bubble.
Quince Orchard protected it's #3 DMV ranking (Washington Post AllMet Sports) using quickness of their running backs Marquez Cooper (Kent State commit) and Junior Jeremiah White.  Cooper had 174 yards on the ground and 26 receiving yards and 2 TD's.  On this September evening he secured his name in the Cougar's history books as their all time leading rusher.
The game was played out in front of a standing room only crowd.  Also present was a media press corp partly dedicated to view the 2019 debut of the current highest rated collegiate recruit, Damascus' Offensive/Defensive lineman Bryan Breese (Clemson commit).
Props to the athletic department staff at Quince Orchard, specifically, AD Jeff Rabberman and Coach John Kelley, for handling the process and control of the dozens of media personnel.  Media coverage was restricted to the QO sidelines (between the 25 yard lines and end zones) rather than allowed to work from the Damascus sideline.  Kelley, his staff and players were able to handle the associated chaos. They have been there before.
The 2018 4A State Champions took full advantage of that chaos and proved their worth to those on hand.  Foremost, they had fun. Fun in front of the bulging home crowd. They paid scant attention to the newly present media machine.  They acted as the in state/in county powerhouse.
The game turned sharply in Quince Orchard's favor late in the 4th quarter when Marquez Cooper scored from 1 yard out to make it 13-6, Cougars.  Then with 3:01 left of the clock the Cougars pooched the ensuing kick-off and recovered the free ball near Damascus's 25 yard line.  Three plays later and a 2 point conversion the game stood at 21-7.  Game over for Damascus.
Breese,  the main on field attraction was a force to deal with.  His stature (6'5″, 290 lbs) made him a chess piece obstacle to maneuver around.  Fortunately, Quince Orchard has the size both offensively and defensively that helped limit Breese's effectiveness and provided alleyways for Cooper on this game board.   Breese turned many of Cooper's 31 carries inside to be handled by fellow team defenders but QO's speed around the corners eventually did the Hornet's in. Also, defensively QO's lineman stack up at 6'4″, 6′ 4″, 6′ 4″ and 6′ 3″.
Looking at Breese, I was reminded of a former New York state high school standout player name Walt Patulski.  WikiPedia Patulski.  There you will find a young man with a similar high school profile.  Statuesque like Breese, Patulski went on to play for Notre Dame, became an All-American, win the Lombardi Award and became the NFL's #1 draft choice in 1972 as picked by the Buffalo Bills.  In high school he not only played on the defensive line but was also a record setting fullback.
Perhaps the coaching staff at Damascus might during the season consider Breese's ability to run the ball.  It could be a return to their traditional, three yards and a cloud of dust format that sustained this program and community for years (2011 to 2018).  However, playing in 3A/4A with fewer strong teams remaining on the schedule, there is no incentive for Damascus to change their present ways until perhaps it's too late.
I recall opposing teams gang tackling the 6′ 5″ Patulski to drag him down, many defenders flattened along his running wake.  He spelled ball control.  Readers of this blog may question my sanity for even suggesting that Breese take on a new football skill, as in why change his specialization or cause unnecessary harm now.
To that, I suggest to let the boy(s) have fun.  From my camera vantage point across the field on Friday night that was the gas [fun] that seemed to be missing from the Damascus sidelines.
Bubble popped.
Photos to follow
All photos copyrighted 2019 © Phil Fabrizio | PhotoLoaf®  for MCM