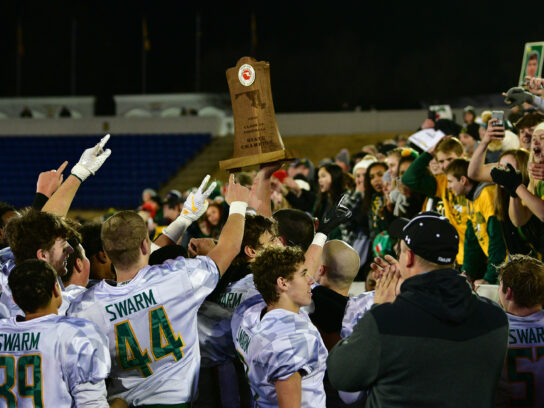 Navy Marine Corps Memorial Stadium, Annapolis Maryland December 6th 2019
Damascus left no doubt on Thursday evening that they were the best 3A team in Maryland as they cruised to their 11th state football championship.  Some say the Hornets of Damascus are the most dominant team in state history.  It was hard to deny that sentiment watching them hold Linganore of Frederick County scoreless.  The stats were incredibly lopsided Damascus had 24 first downs Linganore 2.  Yards passing Hornets 156 Lancers 47.  Yards rushing Damascus 307 Linganore 19.  Total offensive yards 463 to 66.
The first Damascus touchdown was a two yard run by #55 senior Brian Bresee (Clemson commit) which was his third touchdown this season which made him three for three this season.  Also scoring for Damascus were kicker senior #8 Junior Baires 27 yard field goal, a six yard pass to #10 junior Malek Sabri from senior quarterback #5 Michael O'Neil, 30 yard pass to #11 senior Isiah Bell from O'Neil, and a 26 yard pass to #21 senior Austin Ambush from O'Neil to complete the scoring for Damascus.
The impressive victory by Damascus is a result of a coaching staff's commitment to a relentless defense that stifled every effort Linganore made to move the ball.  This well deserved Maryland 3A state Championship puts Damascus on a path to become the most dominant football team in Maryland high school history.
Congratulations to the Swarmin' Hornet players, coaches, and the faithful fans of Damascus.
Pictures to follow by Phil Fabrizio and Daryl Schultz