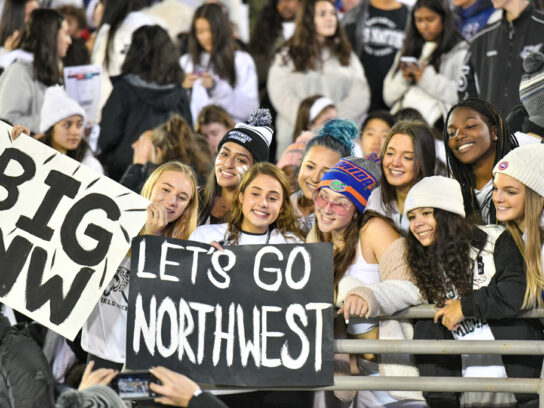 December 6, 2019: Navy-Marine Corps Stadium, Annapolis, MD
Northwest High School's football team came to Annapolis on a roll having beaten arch-rivals Quince Orchard the week before in the state semi-finals.
Northwest Jaguars expected to take its good vibration excitement turning it into an upset bid of the higher seeded Dr. Henry A. Wise of Upper Marlboro.
So, it was no surprise to many that the halftime score was tied at 14.  Northwest used only 1 minute and 36 seconds to put up two big play scores on the Puma's in the first half.
They had the momentum going into the locker room after blocking a 20 yard field goal attempt with 7 seconds left on the clock.  They would receive the second half kickoff.  Mister Momentum was in their corner.
Problem was they left it in the halftime locker room.
Northwest had silenced the Wise sidelines, the band, the cheerleaders in that second quarter.  But the Puma's found their bearings and came out stronger in the second half to finish off the Jags 35-14 and take the 4A championship.
What became so obvious was that Wise's defense shut down Ajahni Terry and the NW running game.  They had limited NW's time of possession in the first half to just over 6 minutes.  Faced with the option to turn up the passing game NW was sacked 6 times and Wise held NW to a negative 27 yards running for the entire game.
Despite the lack of a running game, NW QB Jordan Morse had 305 yards in the air completing 18 of 26 attempts and 1 interception.  Ryan Beach had 208 all purpose yards, mostly on receptions to help lead NW.
Wise gained 223 yards against a stout NW defense that held Quince Orchard, the prior week to it lowest rushing total of the year.  Meanwhile, Wise's Jayden Sauray had 233 yards in the air with 2 touchdowns.  Jalil Faroog lead Wise with 111 all purpose yards and played stellar defense as a linebacker.
In the end it was Mr. Momentum who found it's favorite with the Puma's as they returned to the top of the 4A football heap as champions.
Photos to follow.
Photos provided by David Wolfe and Phil Fabrizio
All images copyrighted 2019 © Phil Fabrizio | Sugarloaf Associates LLC | PhotoLoaf®