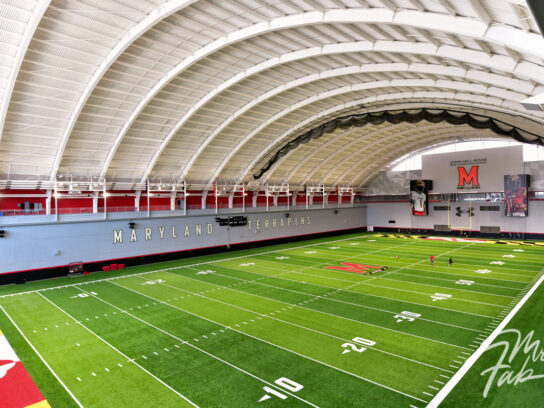 Say what you like but finishing the University of Maryland college football season 7-6 with a smile on your face is great.
Winning season records have been few and far between in the last decade at College Park ending in 2021.  No need to review them as it does not matter any longer.
My alumni hopes and dreams in 2022 for those at Maryland include the following in order of preference: a) an ESPN Game Day event hosted in College Park; b) beating OSU; c) another winning season; d) finding and coaching up a running back that takes your breath away; and e) a holiday bowl date near Pasadena, that is in California, not Maryland.
So, does Coach Mike Locksley agree with my alumni/media like goals – I had not asked him – yet!
The next 2022 wish is for my grandsons.  It is to high five Testudo at every home football game.  They are so sad when Testudo only hangs with his student crowd friends near end zone cameras.
College Park, MD Nov 20, 2021:
(Photo by Phil Fabrizio for PhotoLoaf Media)
Before going any further, I need to explain that I have been fortunate to cover University of Maryland Sports as a photographer/writer for several years.
It is a privilege aligned with following Montgomery County and DMV student-athletes who make it to this next level and play for UMD.  The COVID years of 2020 and 2021 made it difficult to cover as I did in the past. So, this year I took better advantage of UMD Zoom Pressers, in person weekly media events and the occasional game day photo field coverage.
I am admittedly a long-standing Terrapin Club Member, a holder of Basketball and the occasional Lacrosse season tickets.  I have had football season tickets since 1974.  I can count on two hands the missed home games during that span.
Since the early 1990's we, my wife and I have brought our son and daughter to any football game they wanted to attend (without weekend soccer conflicts, etc.).  Since then, there has been three generations of Terp loyalists around the home, from us to the grandchildren. Game attendance is not an obligation but rather viewed as a fun fall afternoon, especially for these Terp grandparents.
OK, so how did this fun begin and how did the 2021 Terps get here (a winning record), and by what means do they get to "there" (new goals for 2022) and finally why are my grandsons so sad about Testudo?
The 2021 Season
The Terp's season began with four straight wins.  They beat border state rival West Virginia 30-24, cruised by DVM local Howard 62-0, traveled to Illinois winning 20-17 for 1st time in Urbana-Champaign, then handled Kent State at home winning 37-16, a team that featured former Quince Orchard standout Marquez Cooper at running back.
The middle part of their season was a blur.
The Terps schedule now included all B1G teams that at one time or another were ranked in the Top 20 nationwide.  Three losses to Iowa, Ohio State and Minnesota were followed by a 38-35 home win against Indiana.  Then it was a return to divisional opponents Penn State, Michigan State and Michigan, all losses.
Up to this point their six losses to B1G opponents averaged a 30-point negative differential.  Turnovers and penalties created game halting drives or allowed their rivals to continue to play on and score.  Subsequently, the Terps were on track to be called for 88 penalties totaling 742 yards in 2021.  That's a significant advantage to hand over to their Top 10 B1G opponents during a game.
Now the Terps were 5-6 heading up I-95 to New Jersey to take on Rutgers in search of a sixth win to make them post-season "bowl eligible".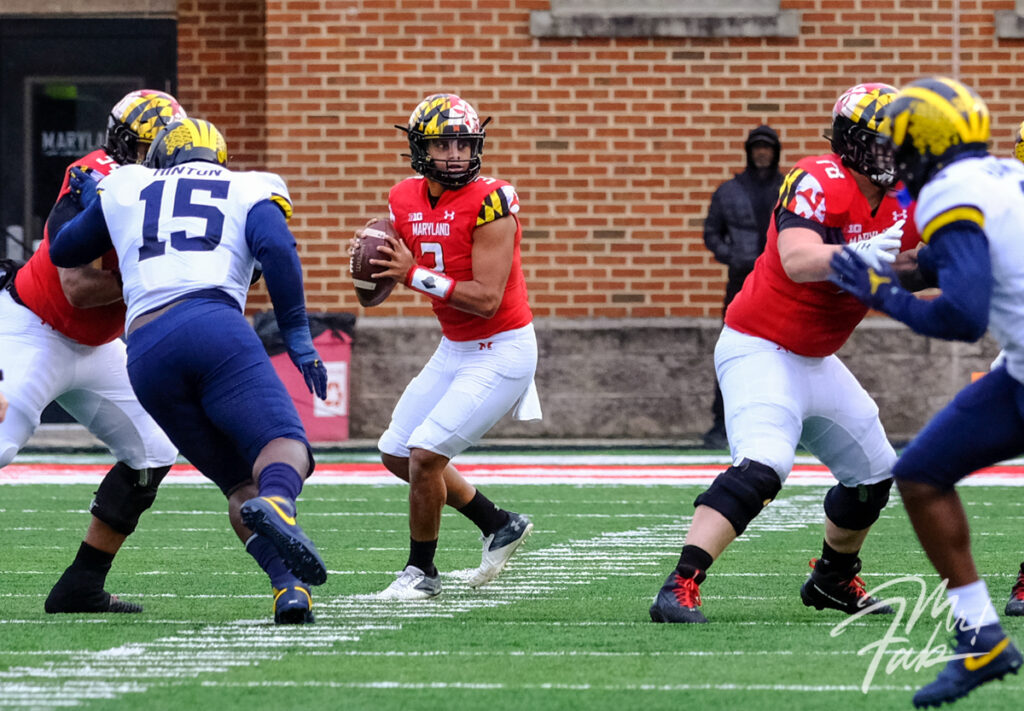 College Park, MD Nov 20, 2021:
(Photo by Phil Fabrizio for PhotoLoaf Media)
Something happened to this team in that final practice week.  They found a consistency, perhaps a renewed purpose, but to me watching at home they were loose, and the game became fun.
The Rutgers game on Thanksgiving weekend, November 27 provided a glimpse of what was both fun and futuristic.  In the Terps 40-16 win there no turnovers of consequence and the penalty flu did not strike the team – they played what would be to this date – a perfect game.
Bowl eligibility and 20 extra days of practice sets the course for future improvements in 2022. On December 29th they came away with a Pinstripe Bowl 54-10 win against Virginia Tech, an old rival who is just now going through the throes of a coaching transition.
Maryland Head Coach Mike Locksley checked off a few team goals by delivering a winning season at 7-6, and a return to bowl eligibility.  He and his staff added to the late season team's consistency by coaching up his young red shirt sophomore quarterback Taulia Tagovailoa to produce a record-breaking season.
Most importantly, Tagovailoa played in all games in 2021, had a passing completion percentage of nearly 70% on 328 completions against 476 attempts with 11 interceptions.  He produced 26 passing touchdowns, tying a Maryland season record set by Scott Milanovich in 1993, and added 8 rushing touchdowns.  His 3,960 passing yards set a single season record surpassing Milanovich's 1993 record of 3,499 yards.
At the Pinstripe Bowl a EPSN's camera crew caught Tagovailoa in a pose that had alluded me all season while I was photographing on the sidelines, he was smiling.  It was fun again.
Getting there in 2022 will depend on Offense
Early season indications point to the continued dominance of DMV student-athletes as signees.  Locksley announced 20 national letters of intent on December 15th.  Ten of these signers are from the state of Maryland.  12 of the 20 are offensive aligned players, which points to the direction for 2022.
Maryland loses offensive seniors Chigoziem Okonkwo, Tayon Fleet-Davis, Carlos Carriere and Doug Jones for 2022.
When I last counted in September 2021 the roster ratio of DMV (which includes all of MD) players to total was nearly 60% of the 83-man roster.  That percentage may have changed since then as student-athletes graduate or opt out for the Transfer portal.
The transfer portal process, think of it as free agency for college student athletes, allows an immediate one-time transfer to another school without sitting out and losing a year of playing eligibility.  The risk here for the student is that there is a suitable end destination once in the portal.
The good offensive news rolled in for the 2022 Terps as Senior Wide Receiver Dontay Demus Jr., a DC native, decided to forgo the NFL to seek one more year in CP.  Demus Jr was on the Biletnikoff Award Watch List in 2021 but had a season ending injury against Iowa at home.
Recently, the transfer portal provided Maryland with another outstanding receiver, Jacob Copeland from Florida, who has two years of remaining eligibility.
Add in a Washington Post First Team All Met star wide receiver Octavian Smith, Jr from Paint Branch to the incoming 2022 class and Maryland has revitalized its receiving corp.  Smith, Jr was a dual threat quarterback at Paint Branch.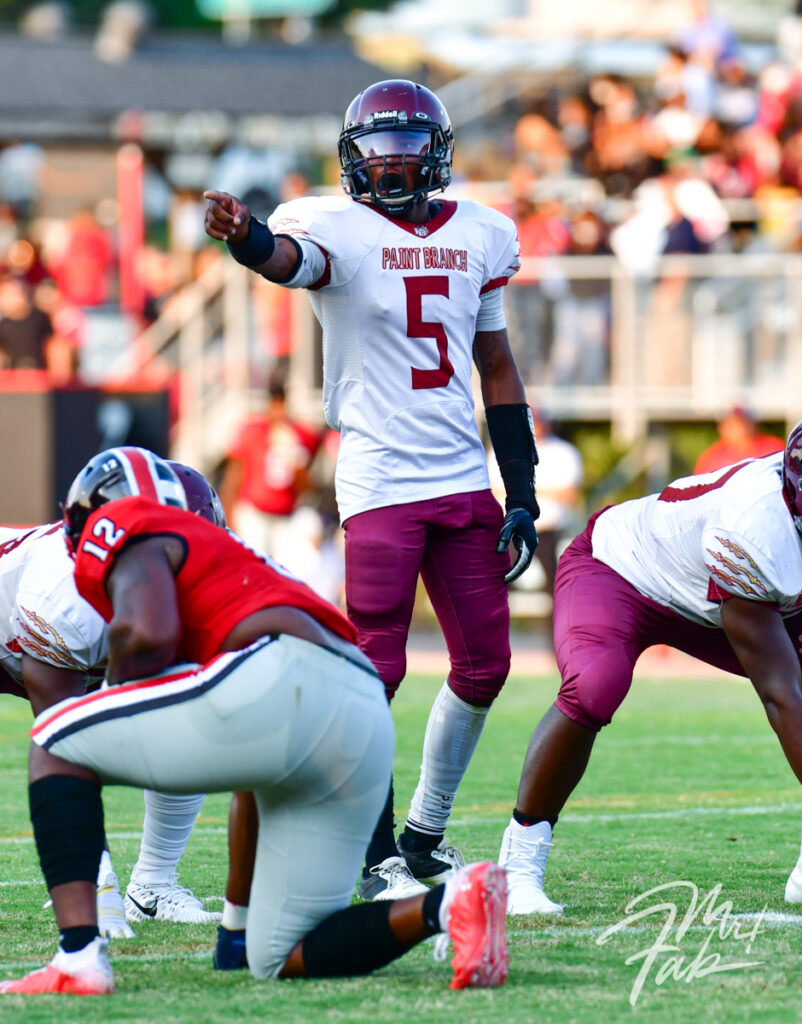 Quince Orchard holds on and defeats Paint Branch 20-13
From the southside of Richmond VA, Midlothian/Manchester HS comes the nationally ranked (10th) running back, Ramon Brown.  The challenge for Locksley's staff is to add another speedster to this incoming 2022 class.
The last offensive player to be featured is another Washington Post All-Met Player, quarterback Jayden Sauray from Wise HS in Upper Marlboro.  I saw Sauray in Annapolis at the 2021 4A State Championship game between Wise and Quince Orchard.  Sauray, that night had difficulties with the big and quick QO defenders. Hopefully he will find success behind the much-improved Maryland offensive line.
Fun with Testudo
Before I take a step into the "way-back machine" let me outline three simple reasons why Testudo (and fans) are smiling.
One, they have a young quarterback with a full year's experience under his belt.  Two, a defense that is stout. Three, a giant HDR video board at the horseshoe end of the stadium.
Yeah, that last one was tongue in cheek but just as relevant to having fun in CP.
Going "way-back" there were game days in which we could buy children tickets for $10 at Giant Food.  The football stadium became the weekend's entertainment destination.  Tailgating with the kids – sort of camping out – included a hot dog, chips, and sodas free upon entry.
Times have changed.  Tailgating is a bit more involved, needs more preparation and is not as sedate but much more fun. Ticket prices however have skyrocketed.
Entertainment options at CP has expanded.  The Saturday destination is not just for football.  It is bands marching, bands playing, massive cookouts, Alumni Center get togethers, beers on sale in the stadium, B1G Ten media events on the Soccer field and of course Testudo.
What's lacking is ESPN and their two decades long Saturday Game Day programming snub of Maryland football.
Who knows that may change now that excitement has been brought back to CP, along with the 9th largest video board in the nation, and a new sports complex on the spot of the nearby former Cole Field House.
Stepping out of the way-back machine I recall all kind of kids lining up along the guardrail of Section 23 begging the Maryland team bench players for a glove or Gatorade sweat towel.
Now they line the guardrail in hopes of high fiving or hugging Testudo.  The parents flock alongside with their smartphones to capture that joyous moment.  The bench players just laugh.  It's fun.
My grandsons and granddaughter, those of the pandemic video age, are fixated on the big screen.  Instead of field focused they left turn their heads to watch the game, the marching bands at half time or the towers of fire at game time entrance.  They follow Testudo's every move because of the video board.  It's only when the cannon roars after a Maryland score are they snapped back field wise to search for a plume of smoke.
Weeks later do they remember the game day score? Nah, they remember having fun, the cookout, the big board, the bands, and Testudo's whereabouts.  Give them more game day experiences and they might remember the scores.
Winning is part of the deal.  Being football competitive is part of the deal.  Having a memorable experience that is Fun – well that just seals the deal for us.
Phil Fabrizio