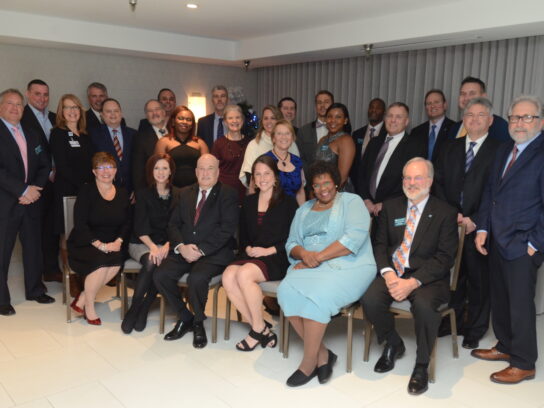 The Gaithersburg-Germantown Chamber of Commerce (GGCC) is pleased to announce its 2020 Board of Directors. They are the leaders of the business community.
"We have a great group of business leaders at the helm of the Chamber," said Marilyn Balcombe, GGCC President / CEO. "They are ready to help create a vibrant local economy. We are truly fortunate in our community to have this level of commitment."
The board was inducted on Thursday, December 5, 2019.The ceremony was conducted by City of Gaithersburg Mayor Jud Ashman, at the Doubletree by Hilton, 620 Perry Parkway, Gaithersburg.
As a board member, they are assuming considerable responsibility for the smooth functioning of the chamber board of directors and the efficient and effective operation of the organization. The Gaithersburg-Germantown Chamber is a federation of business and professional people working together to build a healthy economy and to improve the quality of life in our community.
The 2020 GGCC Board of Directors:
Chair: Bruce Kanner, Cartridge on Wheels
Chair Elect: Anita Anderson, Leadership Maryland
Treasurer: Adam Cox, Hughes Network Systems, LLC
Vice Chairs:
Economic Development: Henry Bernstein, Scheer Partners, Inc.
Member Programs: Heather Madison, Peterson Companies
Young Professionals: Brett Rough, Aerotek
Member Services:  David McCormick-Goodhart, Savant Capital Management
Legislative Affairs: Randy Scritchfield, Randy Scritchfield and Associates
Immediate Past Board Chair:
Brittany Hilton, Hughes Network Systems, LLC 
Directors:
Bryan Beamer, iPlan
Barbara Crews, Johns Hopkins University Montgomery County Campus
Brett Friedman, DeLeon & Stang, CPAs & Advisors
Josh Funk, Rehab 2 Perform
Martin Hollander, Crown Trophy
PJ Horan, Highlander Financial Group
Margaret Latimer, Montgomery College
Tom Lonergan, City of Gaithersburg
Nina Manguiri, Therrien Waddell, Inc.
Mia McFarland, Asbury Methodist Village
Ray McKenzie, The Law Office of Raymond T. McKenzie, Esq.
Aj Nwoga, M & T Bank
Doug Ryder, Holy Cross Germantown Hospital
Alan Speck, Mid-Atlantic Federal Credit Union
Gary Unterberg, Rodgers Consulting, Inc.
Laura Volovski, Shady Grove Adventist Hospital / Adventist Healthcare
Scott Wallace, Linowes & Blocher, LLP
Chair Emeritus:
Stuart Barr, Lerch, Early & Brewer, Chartered
John Compton, BlackRock Center for the Arts
Jim Muir, Hughes Network Systems, LLC
Colette Releford, RealPage, Inc.
Will Schlossenberg
Jerry Therrien, Therrien Waddell, Inc.