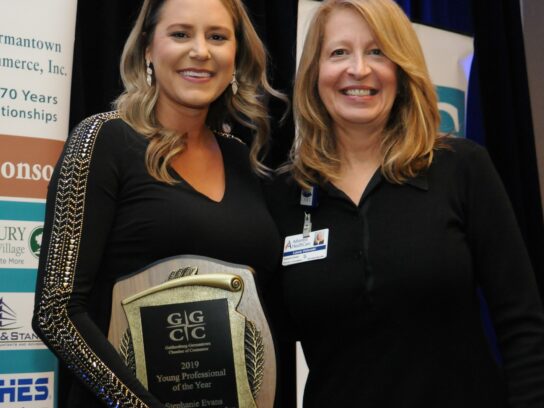 The Gaithersburg-Germantown Chamber (GGCC) awarded Stephanie Evans, partner at Evans Legacy Group at RE/MAX Realty Group, as the recipient of the 7th Annual Young Professional of the Year Award (YPG) at the Chamber's Annual Celebration Dinner & Awards Ceremony. The award was presented by Laura Volovski of Adventist HealthCare. Adventist HealthCare was the sponsor of this year's Young Professional of the Year award.
"Stephanie is exactly what is right with the new generation of business leaders. She's smart, she's savvy, and she gives back to the community", said Marilyn Balcombe, GGCC President / CEO.
The Young Professional of the Year Award recognizes and celebrates the accomplishments of a highly motivated, emerging leader of the Chamber's Young Professional's group.
Evans obtained her real estate license in June 2015. Immediately upon passing the State and National exams, she joined a top ten real estate team in Maryland, The Sabelhaus Team of RE/MAX Town Center; which was a great opportunity to build her foundation in the business and soak up as much experience and knowledge as possible.
Evans said "there is a joke amongst realtors that says congrats on passing your real estate exam, you now know nothing about practicing real estate." However, due to her diligence & three years on the Sabelhaus team, she felt confident enough to go out on her own and start her own team in October 2018 – the Evans Legacy Group. She branched off on her own, knowing the real estate industry in our area is competitive. She said being in this line of work, requires a "significant amount of hustle and heart to stand out and become successful". Hustle to make connections and close deals. Routine is what fuels Evans' fire to hustle. As no single day in real estate is the same, maintaining a general routine is what keeps her organized. And organization keeps her ahead of the game. Networking is another secret to her success. She prefers to grow her business by building relationships. She believes that quality over quantity has helped & will continue to help her business prosper in the long term.
"There are so many adjectives to describe this amazing young entrepreneur. Mostly, she is dedicated, honest, organized, & determined", said Volovski. "But it is leadership, that Stephanie believes is her greatest asset."
Describing herself as a "Type A personality", Evans has a tendency of preferring to be in control, and often finds herself in leadership positions. Growing up her leadership took form in student council and Captain of athletic teams, however, one of her proudest leadership positions was being the spokesperson of a proposed bill called "Shade's Law" in Annapolis. She recited speeches and presented the bill alongside Aruna Miller, then member of the House of Delegates, to both the Judicial Committee of the Senate and the House of Delegates. Although the bill did not pass the first time around, she uses that experience as a learning experience. Evans believes that you "should take what you learn from your mistakes and experiences and share them with others, as it is the key in team development and growth".
Evans is active in her community, especially her home town of Germantown. She recently became involved with One Love, an organization that educates peers on healthy relationships. Having been actively involved in the fight against domestic violence since 2015 – after losing her best friend tragically to domestic violence- she discovered that the Germantown community is lacking in resources for victims of domestic violence. She will be teaming up with local schools to teach the One Love curriculum in assemblies and seminars in hopes to bring awareness to unhealthy relationships before it gets to the point of violence.
And more importantly, she is dedicated to the Gaithersburg-Germantown Chamber. Evans serves on the young professional group committee, where she frequently engages with emerging leaders, assists on planning events and educational pieces, and actively attends the young professional & Chamber events.
The GGCC's Young Professionals program is a networking group of dedicated young professionals ranging in age from 21-40. Through the GGCC, young professionals can engage with other like-minded business professionals to further their career, strengthen their professional image or just meet new friends. The mission of the group is to make the Gaithersburg-Germantown communities and surrounding areas a great place to live and work by harnessing the strength of our communities to make positive change. Learn more about the program at: www.ggchamber.org/get-involved/young-professionals.
The GGCC is active in providing business-to-business networking opportunities throughout the year: a collective voice in local, regional, and state legislative affairs, professional development opportunities and other services that enhance the business environment.