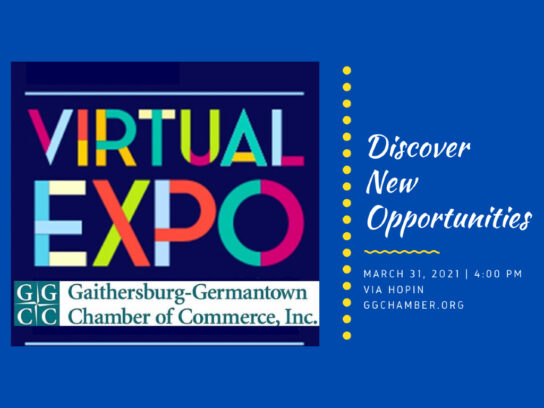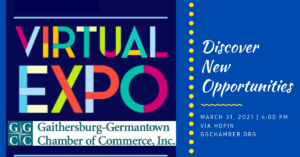 The Chamber will be hosting an exciting Business Expo to bring local product and service providers together with the community to showcase all the best the area has to offer. If you're looking for services to better meet the needs of your home or business then join us for our first virtual business expo. If you're looking for services to better meet the needs of your home or business, then join us at EXPO Connect.
As we begin to think about a post-pandemic world, it is a time to rally together (virtually, of course) and support our local businesses community. The Gaithersburg-Germantown Chamber of Commerce (GGCC) will host a virtual expo on March 31, 2021 via the virtual event management software platform, HOPIN.
Chamber Members, local businesses, and the general public invited to connect, exchange and grow at EXPO Connect: GGCC Virtual Business Expo 2021 sponsored by Supporting Strategies on Wednesday, March 31 from 4:00-5:30 p.m. General admission registration is open at > https://bit.ly/387x7M9,
The theme for the expo is "Discovering New Opportunities." Participating vendors will have the opportunity to interact with attendees and provide information about their respective business.
The Expo Currently Showcases:
301 Delivery, LLC
AMI Signs, Inc.
Beltway Merchant Services
Capitol Benefits, LLC
Celebration Mailers
Crown Trophy
DeLeon & Stang, CPA's & Advisors
Edward Jones – Ashmont
Grace and Virtue Events, LLC
Infinite Bridge
JB Kline Landscaping
Moyer & Sons, Moving & Storage
Nymeo FCU
PNC Bank – Business Banking
PrimeLending Gaithersburg
Quinter Design
Savant Wealth Management
Schooley Mitchell
Supporting Strategies
The Abrams Group of RLAH
Therrien Waddell, Inc.
Tribute at Black Hill.
EXPO Connect: GGCC Virtual Business Expo 2021
When: Wednesday, March 31, 2021
Time: 4:00 PM
Where: HOPIN: https://bit.ly/387x7M9
Register | Details: https://bit.ly/387x7M9