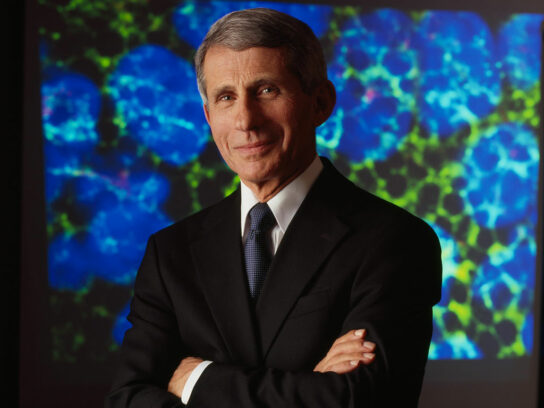 Dr. Anthony Fauci, Director of the National Institute of Allergy and Infectious Diseases and Chief Medical Adviser to President Joe Biden, urged Montgomery County residents to continue following health safety measures.
In a video message played during Tuesday's county council meeting, Fauci said, "Now is the time to keep our foot on the accelerator with regard to adherence to public health measures such as masking, physical distancing and other measures that we know work to protect people from [COVID-19]."
Fauci said the combination of following public health measures and ramping up vaccinations is the most effective strategy to combat the spread of the virus.
"We are all in this together and working together is how we can end it," Fauci said.
"Hard to follow Dr. Fauci on that one," County Health Officer Dr. Travis Gayles said during the council meeting after the video played. Gayles said Fauci touched on a point he wanted to discuss: although daily COVID-19 case counts have improved since winter 2020-early 2021, the county continues to monitor variant strains. Montgomery County is now averaging about 90-110 cases per day, he said.
Gayles said that on a call Monday with the state health department, it was reported that Maryland is one of only two states, the other being Florida, where all three COVID-19 variant strains have been detected (UK, South African and Brazilian).
"We continue to monitor that situation and follow the guidelines from the CDC and Dr. Walensky's recommendations on not moving forward too quickly in terms of reopening, and as you just heard from Dr. Fauci himself, as well as the guidance from the NIH and the members of the President's COVID-19 Task Force," Gayles said.
Gov. Larry Hogan announced at a press conference Tuesday afternoon that the state will start easing capacity limits at bars, restaurants, and other establishments. Hogan said that the statewide mask mandate and other health orders, like physical distancing, remain in place. During Tuesday's council session, Gayles signaled that the county would continue to operate at a slower pace than the state when it came to easing restrictions.
Gayles said Montgomery County continues to monitor the virus, and short term changes that would probably get more consideration in the county are increased childcare capacity and "small incremental changes" to gathering sizes indoors and outdoors. @mymcmedia

— Maryam Shahzad (@maryam_mcm) March 9, 2021