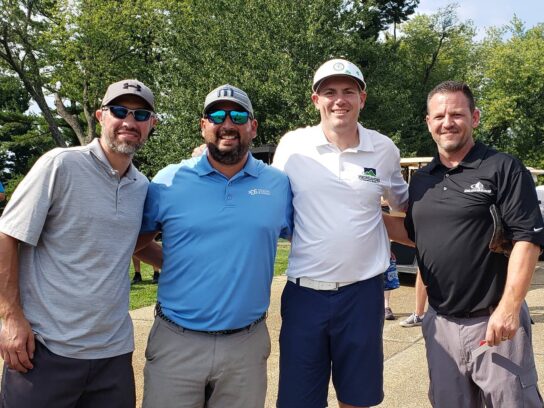 The Gaithersburg-Germantown Chamber of Commerce (GGCC) held its 30th Annual Business Golf Classic at Worthington Manor Golf Club, 8329 Fingerboard Road, Urbana, Maryland on Friday, Sept. 11, 2020. Tournament participants enjoyed a variety of competitions in addition to 18 holes of scramble golf tournament play.
"It was a great outing," said Marilyn Balcombe, GGCC Executive Director. "Everyone stayed safe and it was nice to be able to see everyone."
The chamber's tournament affords golfers the opportunity to grow their business and play golf at the same time; and the opportunity to network.
Given the current landscape, the Chamber ensured the health and safety of its sponsors, golfers, and volunteers by adhering to CDC guidelines and regulations set forth by the course. Together, everyone had an enjoyable time in a safe and healthy environment on a beautiful day.
Placing third was the Buch Construction, Inc. team comprised of Keith Clemente, Fred Miller, Brooks Cucuel and Rich Watson. Buch Construction was a tournament sponsor as well.
Coming in second was the Caliber Home Loans, Inc. team comprised of Jeff Sandusky, CJ Norfolk, Patrick Norfolk, and Ryk Palmer. Caliber Home Loans also sponsored the putting contest.
And in first place, was the foursome which included PJ Horan, Highlander Financial Group; and Brett Friedman, Sean Falk, and Kenny Kramek from DeLeon & Stang, CPAs and Advisors. DeLeon & Stang was a tournament sponsor and the Highlander Financial Group sponsored the beverage cart.
The GGCC is grateful to its sponsors, golfers, volunteers and Worthington Manor Golf Club.
Sponsors include:
Tournament Sponsor
Buch Construction
DeLeon & Stang, CPA's and Advisors
Hughes Network Systems, LLC
Golfer Gift
Lunch Sponsor
DANAC, LLC
Plano-Coudon Construction
Scheer Partners, Inc. 
Putt-A-Rama
Hole-In-One Car Presented by:
Beverage Cart
Highlander Financial Group – PJ Horan
Village Settlements
Beat the Pro
Randy Scritchfield and Associates
Closest to the Pin Women
Long Drive Men
Financial Advantage Associates, Inc
Tee Signs
DoubleTree by Hilton
Metropolitan Ballet Theatre and Academy
Shannon & Luchs Insurance Agency Inc.
PJ Horan, a financial planner, is the Chair and Master of Ceremonies for the event.
The GGCC is active in providing business-to-business networking opportunities throughout the year: a collective voice in local, regional, and state legislative affairs, professional development opportunities and other services that enhance the business environment.
The GGCC is located at 910 Clopper Road, Suite 205N, Gaithersburg, MD. To learn more about the GGCC visit us at www.ggchamber.org. Find us! Facebook: https://bit.ly/2NmNSpC | Twitter: @GGCCNEWS | Instagram: gburggermantownchamber