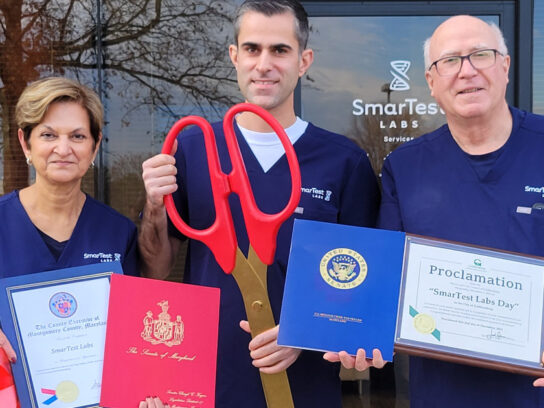 Lab testing just got a whole lot easier. Introducing SmarTest Labs serving the DMV area with comprehensive testing services, minimal wait times and mobile testing solutions. The Gaithersburg-Germantown Chamber of Commerce (GGCC) conducted a ribbon cutting ceremony and joined SmarTest Labs to celebrate their grand opening.
"We are thrilled to see SmarTest Labs thrive", said Marilyn Balcombe, GGCC president. "They provide a fantastic service to the community and to businesses to keep us all safe and healthy".
SmarTest Labs, located at 501 N Frederick Avenue, Suite 106, Gaithersburg, MD, is one of the nation's leaders in drug testing, alcohol screening, DNA and clinical lab testing, corporate wellness programs and employment/background screening.
They are among the fastest growing third party providers in the drug testing industry providing the most comprehensive menu of screening services and employment solutions. They stay abreast of the latest technological trends and improvements in the lab testing industry ensure the accuracy and up to date testing regulations and individual and employer needs.
SmarTest Labs provides quick, clean, and accurate services which do not require long wait times. Learn more about them at www.smartestlabs.com.
The GGCC is active in providing business-to-business networking opportunities throughout the year: a collective voice in local, regional, and state legislative affairs, professional development opportunities and other services that enhance the business environment.
The GGCC is located at 910 Clopper Road, Suite 205N, Gaithersburg, MD. To learn more about the GGCC visit us at www.ggchamber.org. Find us! Facebook: https://bit.ly/2NmNSpC | Twitter: @GGCCNEWS | Instagram: gburggermantownchamber