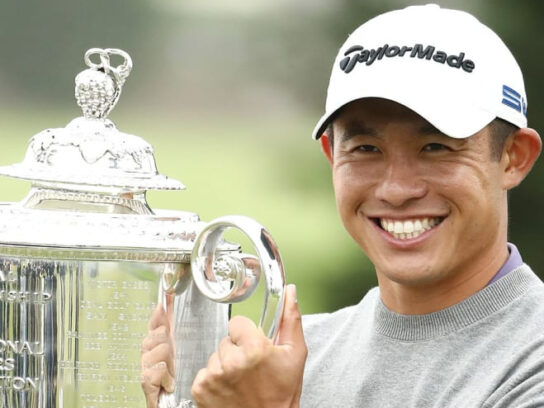 If he looks, performs and competes like a superstar, well then he must be a superstar. Even though he's only 23 years old. Even though he's played in only 29 PGA Tour events, only two major championships. Yes, even though he doesn't wow the crowd with stratospheric drives like many of his peers, make no mistake about it — Collin Morikawa is a superstar.
Get to know him. He's going to be around for a while. At a public municipal golf course in San Francisco, Morikawa beat golf's strongest field of the year to win the PGA Championship. At 5' 9" tall and 160 pounds, he went toe-to-toe with many of the game's heavyweights and knocked them all out.
Late in the game Morikawa was part of a seven-way tie for the lead. Among those alongside — five of the longest hitters in professional golf and two major champions.
First he broke the tie and took the lead by showing off his short-game with a pitch-in from off the green on 14 for a birdie.
Then came a shot he — we — will remember forever. His drive on the 294-yard par-4 16th was the most beautiful thing you've ever seen under the intense pressure of major championship golf. He hit a high, soft fade on the risk-reward par-4 that perfectly mirrored the shape of the hole. It landed just in front of the green and rolled up 50 feet to just 7 feet short of the hole. Only a handful of players had been able to drive that green all week. Now this guy not only drives the green, but hits his 290-yard drive like it was an 8-iron, nestling it close enough to the hole to secure a major championship.
Of course, after you hit a shot like that, you have to pay it off. That is if you're a superstar. Morikawa hit as pure a putt as you've ever seen. Eagle. Three-shot lead. Major.
HIs swing is as smooth as Tony Bennet's voice, as sweet as the chocolate at Ghirardelli Square. Nothing ever seems forced. He's always in perfect balance. It seems he hits the middle of the club.
face on every single shot. It's the kind of swing that will hold up for a lifetime. No gimmicks. Classic. At Harding Park, Morikawa led the PGA field in Driving Accuracy and Proximity to the Hole with his approach shots. He was also number-1 in Strokes Gained Putting. As mentioned earlier, get used to seeing this guy.
Morikawa continues to put his name alongside the game's greatest. Since 21-year-old Gene Sarazen won the PGA Championship nearly 100 years ago, only four players have won this major by the age of 23: Jack Nicklaus, Tiger Woods, Rory McIlroy and Collin Morikawa. He's just the third player in the last 50 years to win a major in two or fewer starts. It took longer for Jack, Tiger and Rory.
Just last month the talk on Tour was about how close Morikawa came to matching Tiger's record of starting his career by making 25 consecutive cuts. Morikawa made 22, missed a cut, took a week off and then won his next start.
The four-time All American at Cal now has 29 starts as a pro. He has three wins, one of which is a major and one missed cut. That's right, he has won majors as often as he has missed cuts.
The PGA win earns Morikawa a lifetime exemption into the Championship, a five-year exemption into the Masters, the Open and the U.S. Open. Morikawa is fully exempt on the PGA Tour for the next five seasons. Oh, and he also gets a check for $1,980,000.
One 25-year Tour veteran described what Morikawa has already accomplished: "That's a career."
Morikawa, himself, isn't quite sure how to explain his success. He does know focus and belief play major roles. "I just feel like this is where I belong," he says. "This is where I want to be."
He is confident but humble. Optimistic but realistic. Morikawa is a superstar but he doesn't know it. We do.