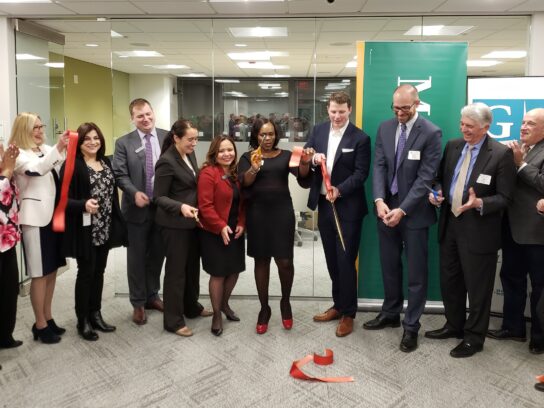 M&T Bank has a new place to call home. They officially opened the doors to their new regional headquarters – located at 77 Upper Rock Cir., Ste. 800, Rockville – on November 14. The Gaithersburg-Germantown Chamber of Commerce (GGCC) joined M&T Bank to celebrate the grand opening.
M&T Bank provides financial services and great banking experiences while developing enduring relationships with their customers. M&T Bank continues its leadership in small businesses lending, ranking No. 7 nationally and No. 1 in many of its major communities for the U.S. Small Business Administration's (SBA) fiscal year 2019. At the event, they announced they were the #1 ranked SBA lender in the Greater Washington, D.C. area; based on total number of loans, with 186 loans for $33.2 million. For more than 160 years, M&T has helped people and businesses manage their money. Lean more about them at: www.mandtbank.com.
The GGCC is active in providing business-to-business networking opportunities throughout the year: a collective voice in local, regional, and state legislative affairs, professional development opportunities and other services that enhance the business environment.