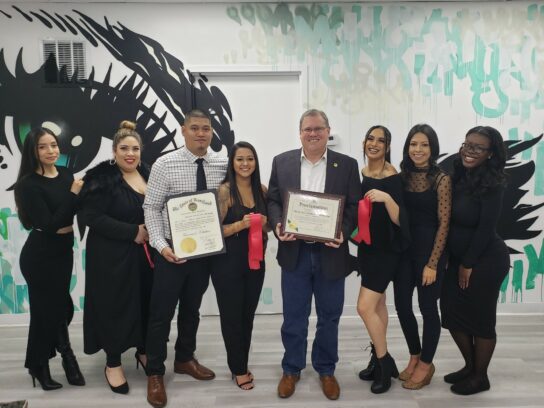 Mynx Lash Atelier & Institute owner and CEO, Layla Nottham, started the business in the basement of her parent's home, and now is the owner of a very chic, sleek, artsy, and savvy studio in Gaithersburg. Mynx was built from a humble foundation, and has transformed into a place for the community to come in and feel at home while transforming themselves through the art of beauty.
The Gaithersburg-Germantown Chamber of Commerce (GGCC) conducted a ribbon-cutting ceremony and joined Mynx Lash Atelier & Institute to celebrate the grand opening of their institute located at 615 S. Frederick Avenue, R5, Gaithersburg.
Mynx is a beauty salon specializing in luxury lash services and full body hair removal using organic and natural sugar wax. They offer basic fundamental and advanced lash courses, taught by their home instructors, as well as specialty courses taught by instructors around the country. They also provide organic airbrush tanning services, available for year-round use, or competitive use. Learn more at the Mynx Lash Atelier website.
The GGCC is active in providing business-to-business networking opportunities throughout the year: a collective voice in local, regional, and state legislative affairs, professional development opportunities and other services that enhance the business environment.